CUP: Bristol Kurt Busch's Best Shot At Victory?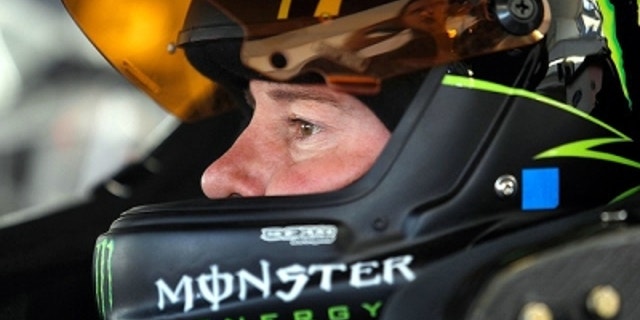 It's no secret that Kurt Busch won't get as many chances to win races driving for the scrappy but small Phoenix Racing team as he did when drove for titans like Roger Penske and Jack Roush.
That said, Bristol Motor Speedway is one place Busch circles on his calendar twice a year. And the 2004 NASCAR Sprint Cup champion heads into Sunday's Food City 500 at Bristol with a legitimate chance at winning for the sixth time on the high-banked, 0.533-mile oval.
In fact, this Sunday's race will be something special for Busch, as he won his first Cup race at Bristol 10 years ago, on March 24, 2002. To this day, even with 24 career Cup victories to his credit, that first Bristol victory is one of Busch's favorite memories.
"It was just my second full season racing in Cup and I was 24 years old," said Busch. "It was such an awesome feeling to just get to this level. It's the big time. Then, to be able to get a win, it is literally hard to explain that feeling. If you go back and look at the way it happened, too – moving Jimmy Spencer out of the way – it's just a pretty big memory for me. You work so hard to get to this level and then, when you win, it gives you that confidence to make you feel like you will make it."
The elder of the two racing Busch brothers went on to sweep both Bristol races in 2003 and won again in the spring races in 2004 and 2006. The '06 victory was especially memorable, as Busch climbed out of his car, got down on the track and simulated making snow angels because snow had fallen at the track earlier in the week.
Since 2006, Busch's best finish came in the spring two years ago, when he led 278 laps and finished third. He'd like nothing more than to notch another victory this time out. But he's not enjoyed the results he had at Bristol before the track was repaved and reconfigured in the summer of 2007.
"It's always been a track that I've just enjoyed," Busch said. "Before it was reconfigured, it was just tough and I liked that. It was mean and you kind of had to let the rough edges drag. A lot of it has to do with just getting up on the wheel and racing as hard as you can when you have your last set of tires. For some reason, it was just something I thrived on and it translated into some pretty good success for us."
The difference between the old Bristol and the new is fairly dramatic.
"There's just more room to race whereas, before, there was one lane and that one lane was maybe half-a-car wide," Busch said. "So you really had to be in the same spot every moment of the lap. You couldn't race side-by-side and, to move forward, you basically had to move people out of the way. The way the track is now, you can race three wide in the corners and not run into anybody."
And Busch, ever the old school racer, liked it best the way it used to be.
"Since they've reconfigured it, I haven't had the success I once had when the track was tougher and meaner," Busch said of Bristol. "This is definitely a more gentle Bristol than it was. Since they are handing out points and money for the new configuration, it's what I need to like, but I did really like it better the old way."
Tom Jensen is the Editor in Chief of SPEED.com, Senior NASCAR Editor at RACER and a contributing Editor for TruckSeries.com. You can follow him online at twitter.com/tomjensen100.