CUP: Bowyer Survives Rainy Night At RIR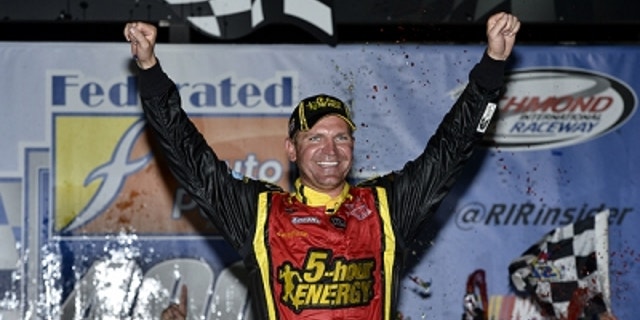 Clint Bowyer won Saturday night's rain-delayed Federated Auto Parts 500 at Richmond International Raceway, the final race in NASCAR's regular season.
Bowyer ran out of gas on his victory burnout after winning the second race of his season in the No. 15 Michael Waltrip Racing Toyota, and the seventh of his career in 243 career NASCAR Sprint Cup starts.
Kasey Kahne and Jeff Gordon clinched the two wild-card spots for the 10-race season-ending Chase for the Sprint Cup, which begins next weekend at Chicagoland Speedway.
Bowyer outlasted the field to triumph over Gordon, Mark Martin, Tony Stewart and Matt Kenseth. Kyle Busch and Carl Edwards missed the Chase, with Busch losing out by three positions in the race to Gordon.
The start of the race was delayed by nearly two hours, as strong storms passed through the Richmond area.
When the race began, Hendrick Motorsports teammates Dale Earnhardt Jr. and Gordon were on the pole. Gordon took the lead on Lap 6, the first green-flag lap, but Earnhardt went to the front on Lap 9. Gordon fell back and one point was a lap down before rallying late in the race.
NASCAR threw a competition caution on Lap 47, with Earnhardt holding sway over Denny Hamlin and Bowyer on pit road. David Ragan spun on the frontstretch on the restart, sending the track yellow again.
Hamlin went to the point for the first time on Lap 59, as he passed Earnhardt with ease and began pulling away. At the 100-lap mark, Hamlin led Earnhardt, Bowyer, Jimmie Johnson and Martin Truex Jr.
Rain brought out another caution on Lap 137, with the top four unchanged after a round of pit stops and Kahne moving into fifth. After circulating for 15 laps under caution, the rain picked up and NASCAR threw the red flag, which remained out for 51 minutes and 45 seconds.
Earnhardt went back out front on the Lap 158 restart, but Hamlin soon passed him and took control and within 10 laps, Earnhardt was back to eighth.
At Lap 200, Hamlin led Bowyer, Truex, Kasey Kahne and Johnson. All told, Hamlin led 130 of the first 200 laps.
After a caution for contact between Bowyer and Juan Pablo Montoya, Truex took the lead on a restart on Lap 242, but Hamlin was back out front seven laps later.
On Lap 277, the rain fell again, bringing out another caution. Initially, Hamlin and Earnhardt stayed out, but they pitted under the last lap of caution, turning the lead over to Kasey Kahne, briefly, but it was Stewart who went out in front on Lap 285. Under that caution Kyle Busch stayed out, which proved to be a disastrous move, because he had to pit later and fell two laps off the lead.
It was Stewart's teammate Ryan Newman who took over the top spot on Lap 300, as the race ran into the early morning hours.
Then, on Lap 314, it was Bowyer who moved past Newman and into the lead, a lead he would never surrender.
Tom Jensen is the Editor in Chief of SPEED.com, Senior NASCAR Editor at RACER and a contributing Editor for TruckSeries.com. You can follow him online at twitter.com/tomjensen100.