CUP: Bowyer Still Miffed At Gordon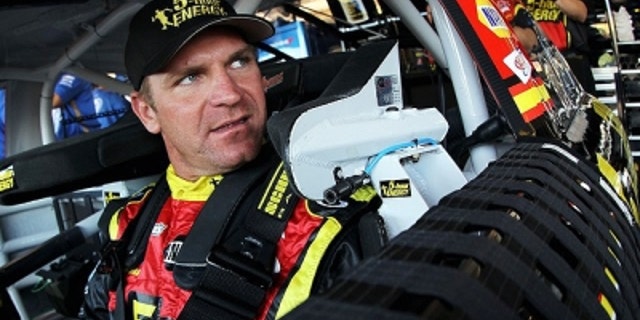 Clint Bowyer still isn't over his altercation with Jeff Gordon last weekend at Phoenix International Raceway.
He might not be for a long, long time.
Gordon lay in wait for Bowyer, who had slipped into the No. 24 car just laps before. On Lap 311, Gordon landed a blow to the No. 15 car and collected Joey Logano and Aric Almirola in the process. The implications of the wreck were nowhere near as costly for anyone else as for Bowyer, who was third in points entering the penultimate race of the season. Although Bowyer was battling a 36-point deficit, with Jimmie Johnson's early issues in the race, the opportunity existed to capitalize.
Instead, Bowyer left Phoenix fourth in points, 52 in arrears — two points behind third-place Kasey Kahne. But he didn't stay down for long. Bowyer joined his good buddy, country singer Blake Shelton, in Los Angeles. It was the perfect medicine for what ailed the devastated driver.
"The best relief was to go to L.A. with Blake, 'cause you pretty much forget about everything that happens," Bowyer said with a laugh. "Over the years, we've become friends. I went out there and went to his world and 'The Voice' and everything. Had fun, had some cocktails, lived Blake's life for a couple of days.
"And let me tell you, you forget a lot of things when you live his life."
Bowyer, 33, is trying not to dwell on last weekend. After a solid day of practice, he qualified sixth for the season-ending Ford 400 on Friday. But he still was confused by Gordon's actions.
"I'm not usually a guy that causes trouble, am I? That's why (the accident) shocked me as much as it did you," Bowyer said. "I really don't have time to talk about what happened last weekend, I've got to try and repair the damage and get back and fix what was lost. (Kasey) Kahne and I have both had a great year. We got to get back and wrap around him for third in points. That's as high as we can go."
Bowyer is happy the season finale is this weekend — actually, he was ready two months ago. But qualifying for the Chase for the Sprint Cup served as "a rejuvenation of sorts" for Bowyer. Still, since moving to Michael Waltrip Racing with crew chief Brian Pattie calling the shots, he's enjoyed the best year of his career with three wins, nine top-five and 22 top-10 finishes. Should Bowyer pass Kahne, who qualified 12th, for third in the point standings, he would tie a personal best set in 2007, his sophomore season.
"We'll be back," Bowyer said. "It's the end of the year. But it's frustrating. And that's what really upset me about everything. We've had a year full of positives everywhere you look — with our organization, with our race team, with me, just everything. To have that happen with a big-name driver at the end of the year just puts a damper on your whole season.
"That's the shame of it all. You don't want to lose track of what we've accomplished this year and the proud moments that have become of all of this."