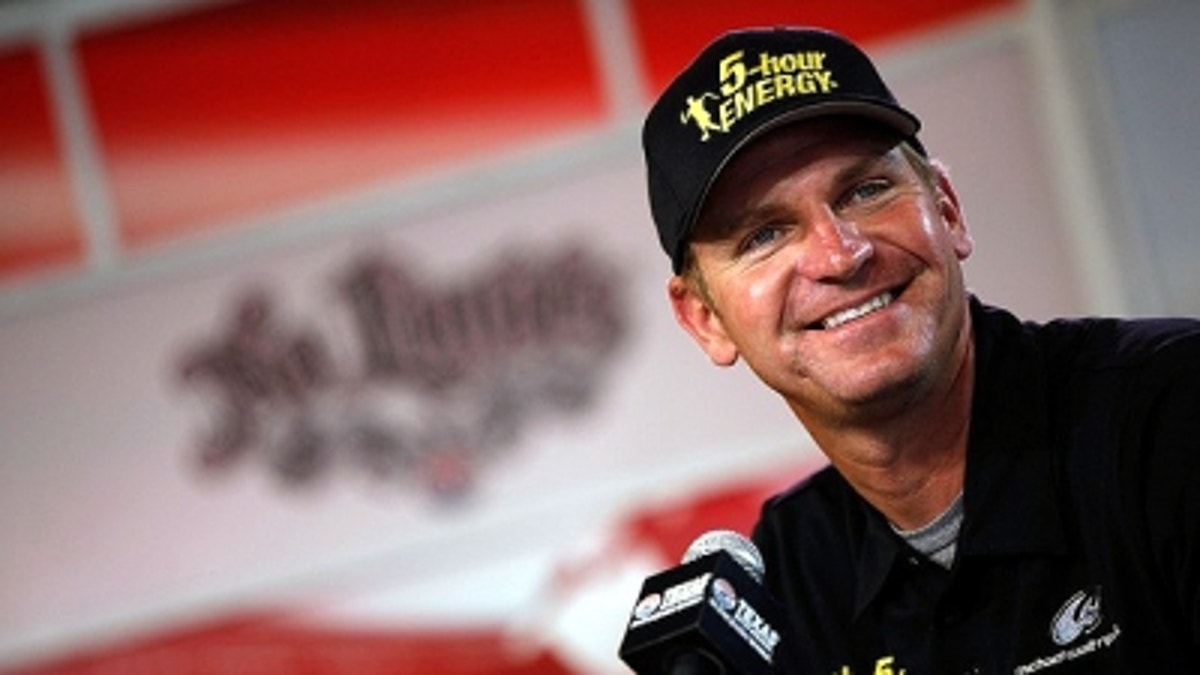 While five time Sprint Cup champion Jimmie Johnson spent his Sprint Cup Chase promotional time in the bright lights and big city of New York, Clint Bowyer was perfectly content to spend his at Texas Motor Speedway.
It's the kind of under-the-radar approach that Bowyer and his Michael Waltrip Racing teammate Martin Truex Jr. have used all year. It's also an approach that has helped net the two MWR teammates the organization's first-ever spots in the Chase.
If Bowyer, who enters the Chase as the No. 6 seed, keeps rolling like he is now, there's no chance the No. 15 5-hour Energy Toyota will sneak up on anyone.
"It's a bonus for us," Bowyer said. "I don't have to go to New York, like Jimmie Johnson does, and explain to the whole world how he's going to get back on top on top of the world and win his sixth championship. All I have to do is win my first."
It's not out of the realm of possibility that it happens for Bowyer this year.
Bowyer, who was at TMS Tuesday as the track honored first responders to commemorate the anniversary of 9/11 and also gave away thousands of tickets for the Nov. 4 AAA Texas 500 to high school students, has plenty going for him.
Bowyer has Chase experience, making the playoffs three times while driving for Richard Childress Racing. He also has tons of momentum on his side. Bowyer has already won twice this season, including Saturday night's wild race at Richmond that featured a Bowyer spin, a rain delay and a race that started on Saturday and ended on Sunday.
He's also part of the Cinderella story at MWR, which struggled when it tried to race with the Sprint Cup elite teams beginning in 2007. Adding Truex for the 2010 season was a sign the team was headed in the right direction. Adding Bowyer only continued the positive trend.
The team had a luncheon scheduled Monday to celebrate making the Chase. They add to celebrate a little more after the Richmond win.
"It's so much fun to be a part of this, see all of this take place," Bowyer said. "Remember back to when Michael first came into the sport, everybody, including me, was like 'Oh man, he's bit off more than he can chew. He's going to be done before he ever gets started.' To be able to weather that storm, survive, keep digging g and never give up, has finally got him and his organization where it's wanted to be."
All the good vibes going on with the team only really matter if it produces when the Chase begins this week at Chicagoland Speedway. Bowyer didn't make the Chase last years but has finished as high as third (2007).
One thing he has going for him is that he's run well at the tracks that are in the Chase. That included Texas, where Bowyer has seven top-10 finishes in 13 starts.
"I think we can compete for a championship," Bowyer said. "More importantly we're running good. I've been part of the Chase when we're running well and finish third (2007). I've been part of the Chase where we weren't running well and kind of lucked into the deal and were the last car in and finished 10th (2010). There's a huge difference between that. The win (Richmond) is exactly what this young team, young organization needed going to the Chase."