CUP: Bottom Lines Tremble After Daytona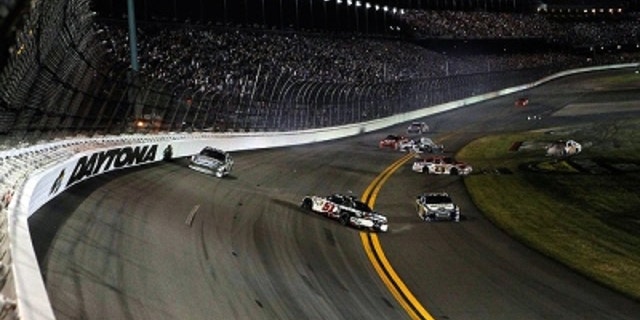 With the return of pack racing at Daytona International Speedway came pack racing's almost inevitable evil twin – crashes, crashes and more crashes.
When no one is hurt in these spectacular multi-vehicle gatherings, the sport becomes almost numb to them, as if they're simply a part of the process of running a 500-mile race at a super-fast, super-crowded track. As Jeff Gordon put it this week at Phoenix, "I feel like that's just the nature of that type of racing."
There is a bottom line to all that mangled sheet metal, however, and it was felt most significantly in the ledgers at Hendrick Motorsports, which left Daytona with six crunched race cars, a very sick engine from Gordon's Daytona 500 car and only one finish – Dale Earnhardt Jr.'s second place – worth celebrating.
"I've never seen so much equipment torn up as what we saw this last week at Daytona," Gordon said. "It was incredible. That's just the tight racing, competitiveness, how easy it is to make a little mistake and cause a lot of carnage and take you out of the race."
On the other end of the spectrum, Roush Fenway Racing won the 500 – Matt Kenseth's second win, skated through the week's mechanical gore with little damage and left coastal Florida with more than $3 million in winnings.
There are winners and there are losers in the big money exchange that is Daytona Speedweeks, and the crippling of a race car in a few seconds represents a big minus on balance sheets and the effective loss of many work hours that went into its construction, maintenance and polishing.
"I think we all forget … how much energy goes into these cars to build them," Carl Edwards said. "When you see cars torn up, it is just hundreds and hundreds of hours of work that has to be done.
"I can tell you that I haven't seen (team owner) Jack Roush much happier than he was after that race Monday night or Tuesday morning. He was very, very happy. Thinking of it in terms of that, he might have been real happy they didn't tear up all that stuff. There is a lot of money and time that goes into those.
"We were trying specifically not to tear up the car. I tore mine up a little bit, but we are going to run that car again at the next speedway race."
For Hendrick Motorsports, the post-Daytona inventory in the restrictor-plate holding area is decidedly less crowded.
"Looking forward to 2013, we know we're going to have to rework those cars, so basically now you manage your speedway inventory for the next three restrictor-plate races knowing you need two cars [per team] for each of those," said Doug Duchardt, vice president of development at Hendrick.
"While it was a rough weekend, and it's unfortunate that we wrecked as much as we did, luckily Mr. Hendrick (Rick Hendrick, team owner) gives us a lot of resources to apply and overcome that setback."
Duchardt said he couldn't put a monetary figure on the Hendrick Daytona destruction, but, clearly, six race cars equals a major investment. The loss of a race car easily involves a red-ink line of more than $100,000.
"There are a lot of teams that had difficult weeks [in Daytona]," Duchardt said. "A lot of stuff was torn up. That's just the nature of that racing. You know it going in.
"Costs? I think we're still counting."
Jimmie Johnson, who had car issues at Daytona beyond the smashing and crashing, said the wrecks multiply the workload at the shop.
"It will definitely put a load on the system," he said. "What we look back on right now is how much time it took to build all those cars and then you don't bring them home and the affect it has on this race and on Las Vegas and on Bristol. We need to take three cars down there and have backups for each team. It is just a huge burden on all departments getting ready.
"We do have some time before the next plate race, and we don't have a qualifying race or a Bud Shootout or anything like that. We will be fine. [But] it is definitely a lot of work for the guys."
Jimmy Makar, senior vice president of racing operations at Joe Gibbs Racing, said the additional shop time is a bigger hit than the financial loss when several cars go to the junk heap.
"It puts you behind," he said. "You don't have a lot of time to replace your fleet if you total race cars. Even if they're not total losses, just to repair the cars and get ready to go to Talladega is a difficult task. It kind of puts you behind the 8-ball as far as getting your other stuff ready.
"You only have so much resource and car-building plates. If you come home with everything torn up, you have to get cars redone. Most teams already have a schedule of new cars they're building for the races to come, so you have to take a little away from that."
As for Roush, the guy who took home the biggest paychecks from Daytona, he isn't ready to build a new beach house.
"I will not be surprised if the fortunes of restrictor-plate racing reverse themselves in favor of Hendrick and against us at Talladega or Daytona going forward," he said Saturday. "We dodged a bullet. We were extraordinarily fortunate in Daytona, but that lasts only for about a week.
"The fact that Hendrick tore up all those cars and we won the race was just a matter of the fortunes of restrictor-plate racing. It's very likely that in the end it's a jump ball."
Mike Hembree is NASCAR Editor for SPEED.com and has been covering motorsports for 30 years. He is a six-time winner of the National Motorsports Press Association Writer of the Year Award.