CUP: Blue Oval Singing The Blues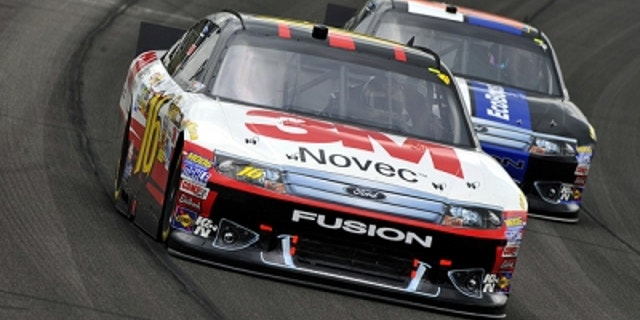 It's been eight years since a Ford driver enjoyed the wining and dining that accompanies a Sprint Cup championship, and, unless a complete reversal occurs quickly, that streak won't end this season.
Ford's two drivers in the Chase for the Sprint Cup – Greg Biffle and Matt Kenseth – sit in the bottom two positions in the Chase standings. Biffle is 51 points behind leader Brad Keselowski, and Kenseth is 72 back.
The Roush Fenway Racing drivers have started the Chase miserably despite the fact that each enjoyed excellent regular seasons.
Biffle led the point standings for 11 straight weeks in the first half of the season, then returned to the top spot for three straight weeks as the Chase approached. For the first 25 races of the year, he was never lower than fourth in points.
Kenseth was atop the points for seven weeks, and, for the season's first 25 races, was never lower than sixth in the standings.
They started the Chase in good shape, Biffle in a tie for fifth and Kenseth in a tie for seventh.
But little has gone right in the weeks since the Richmond regular-season finale.
Biffle has had finishes of 13th, 18th and 16th, and Kenseth's Chase record is 18th, 14th and 35th.
The frustration reached a low point Sunday at Dover as both drivers had some strained radio conversations with their teams. And there was even talk of Kenseth's team purposely sandbagging his Chase run because he's leaving RFR at the end of the season, a charge team members quickly refuted.
With seven races left in the Chase, Biffle and Kenseth face almost impossible odds.
"Well, it's pretty much a stretch for us right now," Biffle understated. "We would have to have a lot of help at Talladega and a few other race tracks to try and leapfrog back in. The thing is there are so many guys ahead of us. It's not like there are two or three that we need to catch up to, it's a whole mess of them, so it's a pretty tall order to beat all of those guys by six positions seven races in a row. That's going to be hard."
A loose wheel slammed the door on Biffle's day Sunday.
"We were in great position, so to finish where we did and have that happen is pretty remarkable, but that really kind of takes us out of the title hunt," he said. "We really needed to finish in the top three here to really be a factor, but now we'll just work on being in the top 10."
Kenseth was looking to score his second Sprint Cup title and RFR's first since Kurt Busch won the championship in 2004, the first year of the Chase format. But his chances likely ended Sunday in a mess of problems, a sequence that started with a track-bar failure.
"In two out of three Chase races, something either fell off or broke, so obviously that's not good," Kenseth said. "Our performance hasn't been very good, either, so I don't know. Today was a struggle. This is probably the worst we've run here for as long as I can remember. We just really missed it. From the first lap on the track to the last lap on the track we were pretty much junk. Everybody is trying hard, but we just missed it."
And that generally sums up the Chase for both Biffle and Kenseth through three races.
Mike Hembree is NASCAR Editor for SPEED.com and has been covering motorsports for 30 years. He is a six-time winner of the National Motorsports Press Association Writer of the Year Award.