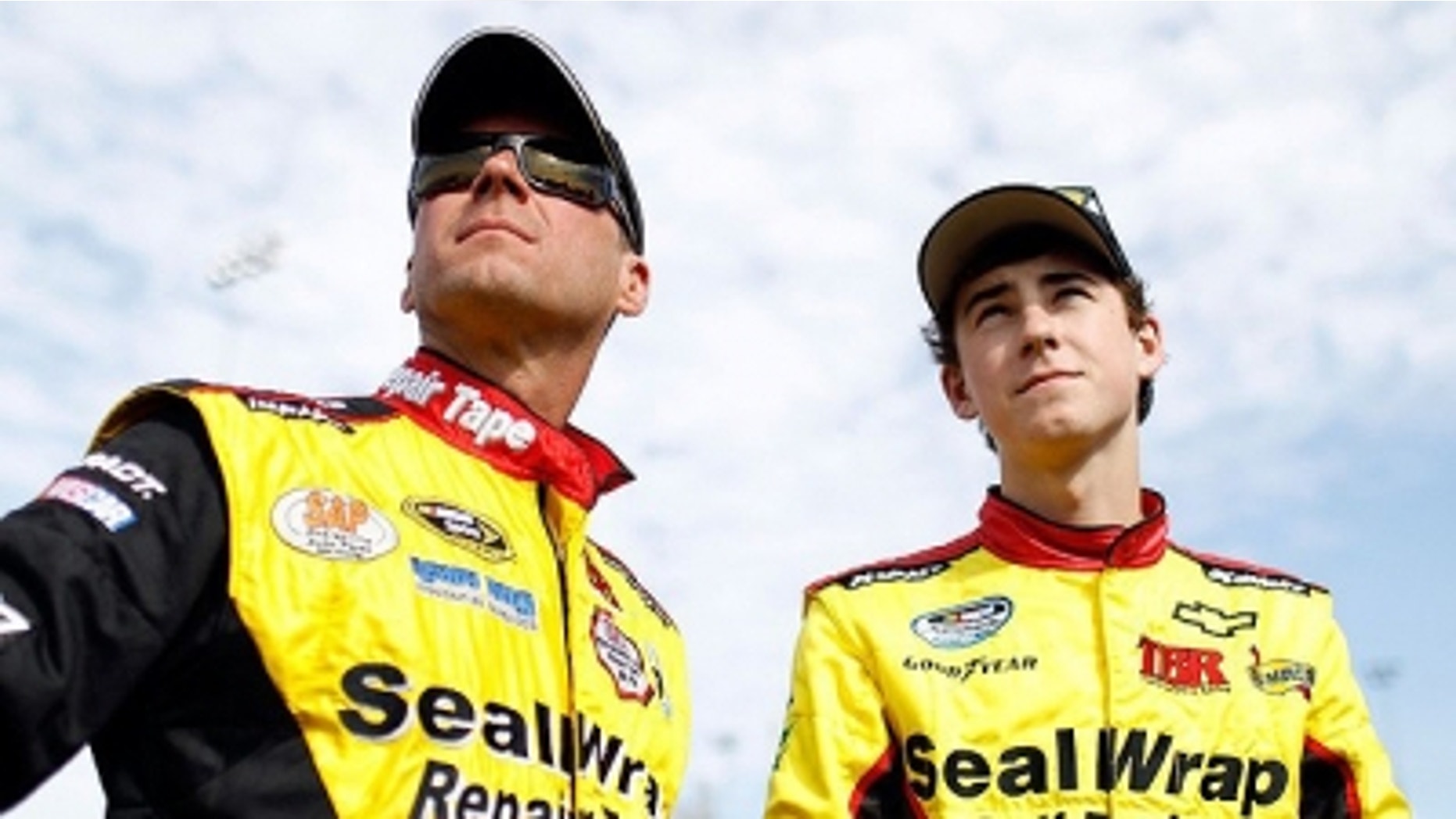 These are good times to be a Blaney.
While 18-year-old Ryan Blaney was recording an 11th-place run in Friday's Camping World Truck Series race at Kentucky Speedway, his father, NASCAR veteran Dave Blaney, was between practice runs in one of the top cars in the Sprint Cup Series – Penske Racing's No. 22.
Dave Blaney was called on to substitute for Sam Hornish Jr. in practice and qualifying at New Hampshire Motor Speedway Friday and Saturday while Hornish concentrated on Nationwide Series activity at Kentucky.
Blaney performed well for the Penske team, qualifying Hornish's car 10th Friday.
It's been a fun and unusual weekend for Blaney as he divides his time between his driving and the rapidly accelerating career of his son, whose quick success is turning heads throughout NASCAR garages. Ryan became the Truck Series' youngest winner two weeks ago at Iowa Speedway.
Was Dad surprised with Ryan's win at 18?
"Somebody else asked me this," Dave said. "I said, 'Well, don't call me a jerk, but no, I wasn't surprised.' I haven't been surprised at anything that kid has done since he was about 14. Obviously, I've seen everything that he's done. He catches on to things so fast, and it seems like naturally he can pick things up and just make good decisions.
"And that eventually helps him be in the hunt for race wins in every series he's been in. It didn't surprise me. I don't even know how to explain it. It was pretty gratifying to see him have that happen to him so soon. You get a little momentum going. It's nice to keep it going, so, hopefully, he can continue that.
"I thought it was very big for Brad's Truck team (Sprint Cup driver Brad Keselowski owns the team that fielded Blaney's winning truck at Iowa), for Ryan's future. Hopefully, the Penske group can sell him more
with that win or be more confident. Hopefully, they saw what they were hoping to see in him, and he can keep improving.
"He's been improving a lot, I think, lately and he's been racing a lot more. The last three or four weeks, he's raced steady. You see a big improvement anytime you can stay in, whether it's in Trucks or Nationwide. The more you can stay in them, the more comfortable you get, the more you improve. He's coming along just fine."
Ryan appears to be on the fast track. He doesn't have a locked-in ride situation for next season, but there's little doubt he'll find himself in a good situation. It's quite the different road from his high school classmates.
"Most of them are in college now, doing schoolwork while I'm at a race track having fun," he said. "I got the life over them. I don't see them much. I think I'm definitely having a lot more fun than they are."
Dave Blaney said much of his focus now is on Ryan's advancement, but he said he hopes to continue running full-time in the Sprint Cup Series.
"We'll see what Tommy Baldwin (team owner) is up to next year and what kind of plan they've got," he said. "They're trying hard to get better equipment, race a little more, race a little harder. We'll see how that goes. Honestly, I'm focused on Ryan's racing or how he's coming here lately."
Mike Hembree is NASCAR Editor for SPEED.com and has been covering motorsports for 30 years. He is a six-time winner of the National Motorsports Press Association Writer of the Year Award.