CUP: Biffle Makes Late Charge To Victory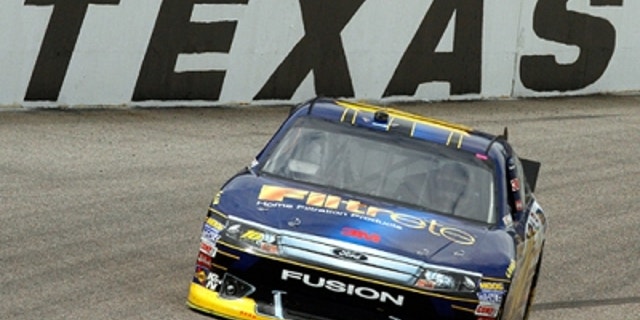 Greg Biffle passed Jimmie Johnson with 30 laps to go to win Saturday night's Samsung Mobile 500 at Texas Motor Speedway, once again thwarting Hendrick Motorsports' attempt to win its 200th NASCAR Sprint Cup race.
Johnson led nearly half the race, but it was Biffle, the series points leader, who came on strong late to win his 17th career Cup race and first since Kansas in Oct. 2010. All of Biffle's victories have come with Roush Fenway Racing Fords.
Although Johnson did not win, he held on for second place, his No. 48 Hendrick Chevy taking the checkered ahead of Mark Martin's Michael Waltrip Racing Toyota and Jeff Gordon in a second Hendrick Chevy. Matt Kenseth completed the top five in a second Roush Fenway Ford.
Martin Truex Jr. was sixth in another MWR entry, followed by Kasey Kahne, Carl Edwards, Kevin Harvick and Dale Earnhardt Jr.
The race went green for the final 230 of 334 laps.
Truex started from the pole, he and his No. 56 Toyota a key part of the resurgence at Michael Waltrip Racing this year. Truex led the first 31 laps before Biffle blew around him on the outside of Turn 2, with Kenseth moving into second place six laps later.
Truex regained the lead on pit road under a caution for debris on Lap 69, with Biffle second ahead of Kenseth and Truex's MWR teammate, Martin. Once the green came out, though, Biffle went straight away into the lead.
On Lap 82, Kenseth assumed the point, with Biffle settling into second place. A second caution flag, this one for a Trevor Bayne wall banging, proved to be deja vu all over again, with Truex using the first pit stall to take the lead over Biffle, Johnson and Kenseth. Once again, though, it was Biffle into the lead as soon as the green flag fell, this time on Lap 101.
Then, on Lap 113, it was the five-time champion Johnson who powered to the front for the first time.
The track stayed green and Truex pitted on Lap 143, five laps before Johnson and Biffle, who were running 1-2. That put the MWR Toyota into the lead over Kenseth and Johnson once they stopped.
But on the other end of the run, Truex's tires went away sooner, allowing Johnson to recapture the lead on Lap 181.
Four laps later, green-flag pit stops began again, with Johnson pitting from the lead on Lap 188. When the stops cycled through, Johnson was still in the lead, ahead of Martin, Biffle and Kenseth.
Out front, Johnson was in a league of his own, the five-time champion clearly in command of the race.
Johnson, Biffle and Kenseth pitted again on Lap 284, and when the stops cycled through, Johnson was back in the lead, by 0.651 seconds over Biffle.
But Biffle slowly began to run down Johnson and passed him on Lap 305, after Johnson led 156 laps. And from there, Biffle cruised to the victory.
Johnson bounced off the wall with 15 laps to go, but held on, as Biffle won easily.
Tom Jensen is the Editor in Chief of SPEED.com, Senior NASCAR Editor at RACER and a contributing Editor for TruckSeries.com. You can follow him online at twitter.com/tomjensen100.