CUP: Biffle Hopes RFR History Continues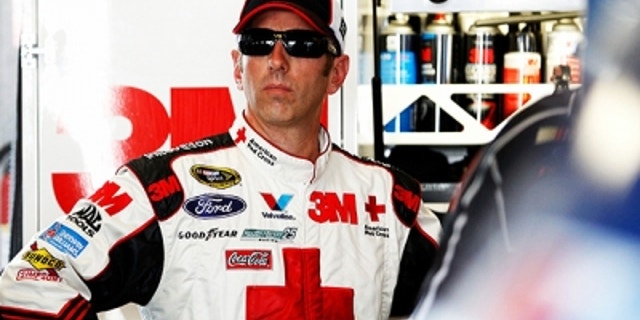 If retaking the point lead he held much of the season is in Greg Biffle's plans for this week, he's at a good spot to make that happen.
Roush Fenway Racing drivers have scored 11 of 12 possible top-10 finishes in the season's four intermediate-race dates this season, and Biffle posted a win at Texas in the spring. Saturday night's race is at Kentucky Speedway, another of the 1.5-mile tracks on the schedule.
Of course, Matt Kenseth, the guy Biffle is pursuing for the standings top spot, also drives for RFR.
Biffle has led the points on 11 occasions this season and has been no lower than third.
On Saturday night, he and the rest of the field will be battling a Kentucky track blistered by oppressive heat. Friday practice made the difficulties clear.
"I am just having a hard time," Biffle said. "Some laps the car and track feel good. Sometimes it feels really slick. We are trying to get the balance right. Right now, it is really hot and slick. It is hard to get hold of."
Biffle said a continuation of extremely hot conditions could make Saturday's race a bear, although slightly cooler evening temperatures will be a positive.
"It would be tough racing in this," he said of the daytime heat. "We know we have to in a couple weeks at Indy, but it just makes the cars slip and slide around a lot when it is this hot. It will be a lot better racing tomorrow night."
Biffle expressed surprise Friday that Kenseth will be leaving RFR next season for a new ride.
"Matt and I are good friends, but we don't talk about business much when we are together, other than racing," he said. "We don't talk contracts or anything like that. I am going to lose a good teammate in the garage area. I am not going to lose a friend, I guess, but I will lose a friend sitting in all the meetings and all that.
"We will still be good friends, but certainly I lose a good teammate and that will be tough, but Ricky (Stenhouse) is moving up into that car, and Ricky has done a great job. We have all felt, including Matt, that Ricky could probably do the job of our fourth car coming up. It will just end up being the third."
Mike Hembree is NASCAR Editor for SPEED.com and has been covering motorsports for 30 years. He is a six-time winner of the National Motorsports Press Association Writer of the Year Award.