CUP: Bayne Looks To Recapture Magic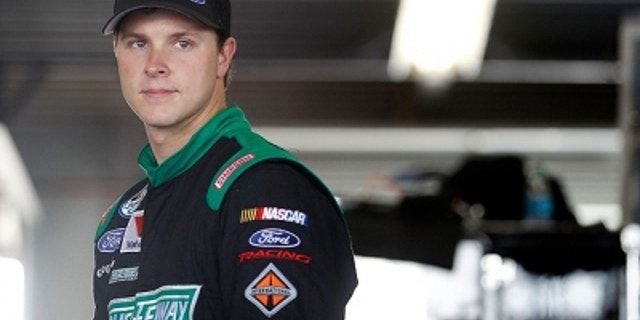 They were arguably the most famous four words spoken during the entire 2011 NASCAR Sprint Cup season: "Are you kidding me?"
Those four words, of course, were uttered by Trevor Bayne on his victory lap after winning the 2011 Daytona 500, one of the biggest upsets in the history of all sports, not just the Daytona 500.
Bayne, who will appear on SPEED's "NASCAR Race Hub" tonight as 6 p.m. ET, won on NASCAR's biggest stage in only his second series start, one day after turning 20 years old. And he did it driving for Wood Brothers Racing, the oldest team in NASCAR, but one that hadn't won a race since Elliott Sadler won the spring Bristol event in 2001.
"Are you kidding me?" Indeed.
Unfortunately for Bayne, the rest of the season fell apart thanks to a mystery health ailment that sidelined him for several months.
And 2012 has been no kinder so far: Bayne was taken out of contention from winning the Daytona 500 in the same Lap 2 crash that claimed Jimmie Johnson and Danica Patrick. He is slated to run 13 Cup races with the Wood Brothers this year and is third in points in the NASCAR Nationwide Series, though without additional sponsorship, he will be unable to compete beyond Las Vegas.
So while winning the 2011 Daytona 500 made Bayne an instant celebrity, his life since then has been anything but easy, which has been a character-building exercise for Bayne.
That said, Bayne displays uncommon wisdom for a young man his age, wisdom he attributes in large part to his faith in God.
"That's what's sustained me," Bayne said. "I always know when there's something that goes bad or when something that goes good then God is working something out. He's either opening another door or he will open one."
Bayne said that faith in God has helped him cope with the inevitable ups and downs of being a full-time racer in a difficult economic environment.
"I think he's given me the talent to become a race car driver because he wants me to use it for his glory," said Bayne. "And if he wants me to stay around, then the opportunity is going to come up. If I'm not racing this season in Nationwide, then it's because he's trying to line up the pieces for me to be somewhere else or at Roush (or) with another company down the road."
On the track, Bayne is much more comfortable in the NASCAR Sprint Cup Series this year than he was last year. Not surprising, given that he has just 19 Cup starts so far in his career.
"On the Cup side I feel a lot better," said Bayne. "I don't have that nervous, you know, 'Oh, crap! There's Jeff Gordon beside me!' I don't have that any more. I still have the same fire to do good and succeed."
In fact, his passion is unmistakable.
"I've seen some people say that winning the 500 made me feel kind of content, but that's not true at all," said Bayne. "That makes me want to get another win to prove myself even more."
Tom Jensen is the Editor in Chief of SPEED.com, Senior NASCAR Editor at RACER and a contributing Editor for TruckSeries.com. You can follow him online at twitter.com/tomjensen100.