CUP: Baker's Tough Attitude Perfect For NASCAR's Early Years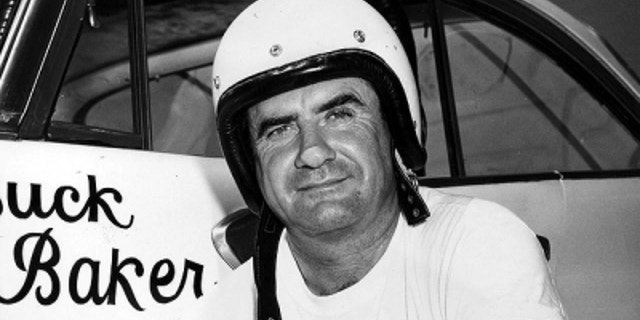 (Note: This release is part of a series in advance of the 2013 NASCAR Hall of Fame Induction Ceremony in Charlotte, N.C., on Feb. 8, broadcast live at 7:30 p.m. ET on SPEED. Buck Baker, Cotton Owens, Herb Thomas, Rusty Wallace and Leonard Wood are the five 2013 inductees. This installment spotlights two-time premier series driver champion driver Buck Baker.)
Buck Baker personified the term "old school."
Elzie Wylie "Buck" Baker, winner of 46 NASCAR Sprint Cup races and the series' first back-to-back champion, personified the phrase "no quarter asked and none given."
Baker, whose NASCAR career spanned portions of four decades beginning in 1949, had one goal: to win. How he got there, well, that was up to Baker.
"He was the perfect example of how a (stock car) driver used to be; the typical Scotch-Irish driver of the past," said H.A. "Humpy" Wheeler, the former president and general manager of Charlotte Motor Speedway and one-time sportswriter. "If you were in a corner and (it was) someplace he wanted to go, he'd be there. Either you'd be in the wall or he would.
"However fast the car would go, he'd get there in a fairly spectacular fashion. He was one of the best and certainly one of the toughest."
Baker's son, Elzie Wylie "Buddy" Baker Jr., puts it this way. "He was not a bully. He wasn't out to create problems," said Baker, who counts the 1980 Daytona 500 and 1972-73 Coca-Cola 600s among 19 NASCAR premier series victories. "But he didn't run from them either.
"If you were racing against him, you didn't like him very much. But you had to be tough back then."
Buck Baker, who died in 2002 at age 83, is among five being inducted into the NASCAR Hall of Fame on Feb. 8. His fellow members of the class of 2013 – the hall's fourth – are NASCAR premier series champions Herb Thomas and Rusty Wallace; championship car owner Cotton Owens and innovative engine builder, mechanic and crew chief Leonard Wood.
Born in 1919 on a farm near Chester, S.C., Baker as a child gained the nickname "Buck" because he shared the reckless abandon of a bull calf by the same name the family owned. Without job prospects after discharge from the U.S. Navy, Baker hauled alcohol effectively polishing the skills he'd need on the race track. He later drove a bus and – by his son's estimation – won hundreds of modified stock car races including 27 weeks in a row at Charlotte's Southern State Fairgrounds.
"The same people booing him would line up (for autographs) at the bus stop on Monday," said Buddy Baker.
Racing out of Charlotte, N.C., Baker won his first NASCAR premier series race at Columbia, S.C., a .5-mile dirt track driving a Hudson Hornet. NASCAR Hall of Fame member Lee Petty – a perennial rival – finished second.
Baker won the 1953 Southern 500 at Darlington Raceway and posted his first of eight consecutive points finishes among the top five. He won 11 times between 1953-55 then joined the powerhouse Carl Kiekhaefer Chrysler-Dodge organization, for which Tim Flock won the 1955 championship with 18 victories in 39 starts.
Kiekhaefer, owner of Mercury Outboards, entered cars in 190 races over two seasons, winning 52 times, before exiting the sport as abruptly as he'd appeared. Baker – who'd run second to Flock driving for himself and several other owners in 1955 – hustled Kiekhaefer's Hemi engine-powered cars to the 1956 title on the strength of 13 wins, 12 poles and 30 top-five and 38 top-10 finishes.
With Kiekhaefer gone, Baker returned to Chevrolets in 1957. He won the championship and 10 races: six in his own car and four at the wheel of a Chevy owned by Hugh Babb.
Baker finished second to Petty for the 1958 championship and continued to win but at a diminished pace. His final victory came at age 44 in the 1964 Southern 500 driving a Dodge fielded by NASCAR Hall of Fame nominee Ray Fox.
Named one of NASCAR's 50 Greatest Drivers in 1998 – he also won the sanctioning body's Speedway Division title in 1952, driving an Indianapolis-type car powered by a Cadillac engine – Baker opened a stock car driving school in retirement. According to Buddy Baker, it was his father's way of giving back to the sport.
"He said, 'I'm not going to race but I have a lot to offer to kids who are just starting out,'" said Baker, who was one of the school's instructors. Jeff Gordon was among the thousands of Baker's students. So was NASCAR Nationwide Series champion and current NASCAR Sprint Cup Series driver Joe Nemechek, who asked for and received Baker's permission to use the driver's old car number – 87.
The younger Baker, who'll induct his father into the NASCAR Hall of Fame, was renowned for his mastery of Daytona and Talladega. He was the first in NASCAR to officially record a lap at an average speed of 200 mph. Yet Baker still marvels at his father's talent.
"He could do things in a race car I could only dream about," said Baker. "Throughout the entire racing world, I don't know of anybody who would have said he didn't give 110% from the time they dropped the green flag until the race was over. He was the same way in life, too."
Induction ceremonies will take place at 7:30 p.m. ET in the Crown Ball Room at the Charlotte Convention Center, which is directly connected to the NASCAR Hall of Fame. The event is the first half of NASCAR
Acceleration Weekend follows on Saturday, Feb. 9 by NASCAR Preview 2013. Tickets for the ceremonies start at $45 (available at www.nascaracceleration.com) and the NASCAR Hall of Fame box office. In addition, a $20 ticket will gain fans all-day access into NASCAR Preview 2013 and the NASCAR Hall of Fame on Saturday, Feb. 9.