CUP: Bad Brad Vs. Five-Time?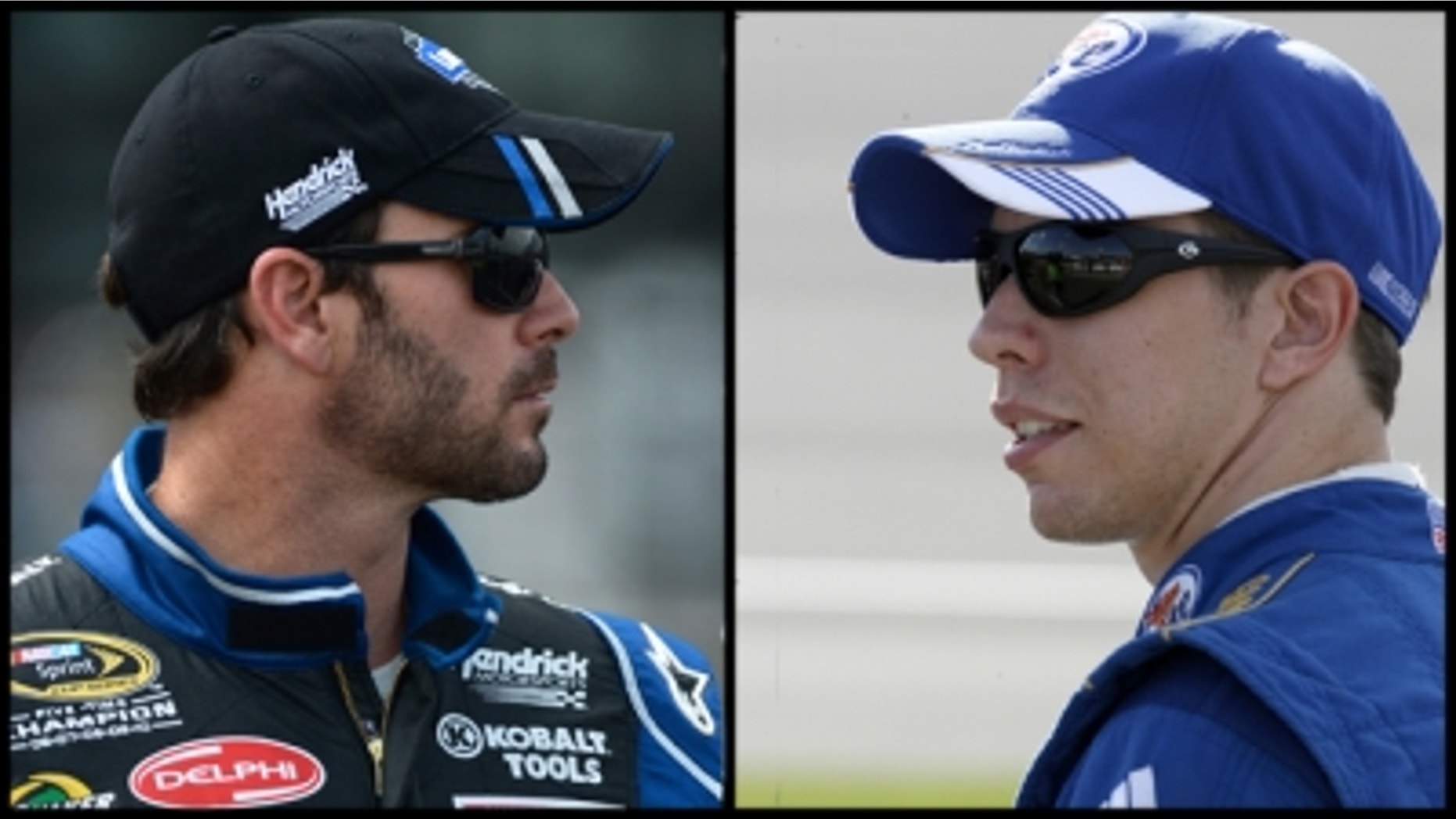 It remains possible for numerous other scenarios to develop, of course, but the most likely Chase landscape at the moment pits wily veteran Jimmie Johnson and surging newcomer Brad Keselowski in the race for the championship.
When the smoke cleared (literally) at Talladega Superspeedway Sunday, Keselowski and Johnson were able to leave Alabama with their race cars mostly intact and with decent finishes. And Keselowski could boast a 14-point edge in the point standings over Johnson.
Everyone else is at least 23 points out of the lead. Other drivers – most notably Denny Hamlin – could reintroduce themselves to the battle for the championship, but at the moment Keselowski and Johnson are the big dogs.
If they continue to separate themselves from the other Chasers, the run for the title would match a guy who has traveled the road successfully five times (Johnson) against a next-generation driver (Keselowski) who seems to have matured exponentially this season while some of his contemporaries still haven't been able to figure out how they should react to times of trouble.
It could be a classic race matching someone who's been there versus someone who figures to get there – if not this year then almost certainly sometime soon.
Keselowski and Johnson started the Chase side by side – each with 2,009 points, courtesy of the three regular-season victories each driver posted.
Since then, Keselowski has been very "Johnson-like" in his Chase performance, finishing first at Chicagoland and Dover, sixth at New Hampshire and seventh in the Talladega tempest.
He has beaten Johnson everywhere except New Hampshire, where Johnson rolled home second to Hamlin.
Keselowski's average Chase finish is 3.75, while Johnson's, dragged down by Sunday's 17th-place run, remains more than acceptable at 6.25.
If the race boils down to those two, Johnson will have the edge in almost every category – experience, results, performance under pressure.
At the six remaining Chase speedways, Keselowski has a total of one victory – at Kansas. He has only four top fives at the six tracks, a product to a degree, of course, by the fact that he has raced at all of them no more than eight times.
Johnson, on the other hand, has circled all of the tracks enough to know every bump and bobble, and his success totals are spectacular. He has won at five of the six tracks and has won six times each at Charlotte and Martinsville. He has a total of 19 victories at the six tracks and owns a perhaps more impressive stat – 53 top fives. Top-five runs build championships.
Of course, the past is merely prelude to what will transpire this year, and it is quite possible that intangibles can continue to produce top-level finishes for Keselowski, who has traded his early-career brashness for a more reasoned approach.
A Keselowski-Johnson battle also would match two highly respected crew chiefs – Chad Knaus, who has answered virtually every challenge in leading Johnson to five titles, and Paul Wolfe, a former driver whose strategic moves have been golden for Keselowski to date.
Among the driving forces in this race, Keselowski might have the most active. He is seeking a first Sprint Cup championship for team owner Roger Penske, who has raced at NASCAR's top level for three decades without scoring the big prize. Keselowski gives the impression that winning the title for Penske would be as important as taking his own trophy home to Michigan.
If it comes down to these two, will experience win over exuberance? Will Chevrolet's smothering resources blind the fading-to-black influence of Dodge? Will one bad race spell doom for one and leave the other singing?
Stay tuned.
Mike Hembree is NASCAR Editor for SPEED.com and has been covering motorsports for 30 years. He is a six-time winner of the National Motorsports Press Association Writer of the Year Award.