CUP: Another Daytona, Another ChadGate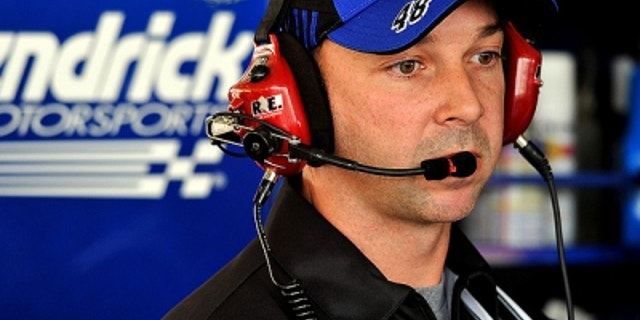 The Sprint Cup garage area at Daytona International Speedway was a busy place Saturday morning as teams prepared for the first of two Daytona 500 practice sessions.
Engines fired. Laptop computers spun out the latest information from the Star Wars-like electronic control units on the new fuel-injected engines. Mechanics applied tape to front grilles for qualifying-type practice runs. Brakes were checked.
And there was background noise, and it was provided by the new chapter of ChadGate, or Hendrick Motorsports' crew chief Chad Knaus' latest dance with the Sprint Cup rulebook.
The No. 48 Chevrolet of driver Jimmie Johnson was rejected by NASCAR inspectors Friday because of illegal modifications to its C posts, the part of the car that runs from the roof to the rear quarter-panel. NASCAR confiscated the sheet metal, allowing the team to repair the area.
Decisions about possible penalties probably won't be made until the week after the Daytona 500, but fines, points penalties and a suspension of Knaus are considered likely by garage insiders. NASCAR president Mike Helton said Saturday some sort of penalty is virtually certain.
"This warrants a reaction more so than what you've seen," Helton said.
What advantage might Knaus have been seeking?
An informal Saturday-morning survey of rival crew chiefs said the major advantage of modification in the C post area is the ability to divert air flowing over the car to the outside of the rear spoiler, providing the possibility of cleaner – and thus faster – movement on track.
It's a tiny difference, but, in racing at Daytona and Talladega, tiny is big.
"They're going after what everybody is going after – a little bit more," said one crew chief. "It doesn't surprise anybody. Everybody is going to work the gray areas."
Knaus, however, seems to work those areas with more energy than most.
In 2006, he was suspended for four weeks for rear window modifications to the 48 car at Daytona. The next year, NASCAR flagged the Hendrick team for goofy fenders on the 48 and 24 cars at Sonoma, and Hendrick cars at Dover in 2009 were singled out for being so incredibly close to NASCAR tolerances that the team earned a warning shot from the sanctioning body.
Now the circuit is back at Daytona, its greatest stage for its most important race, and Knaus is in trouble again.
Although the news Friday was big, almost no one was surprised.
Mike Hembree is NASCAR Editor for SPEED.com and has been covering motorsports for 30 years. He is a six-time winner of the National Motorsports Press Association Writer of the Year Award.