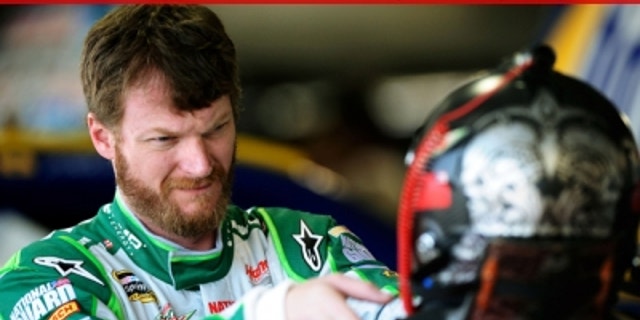 One of the most enduring winless streaks in motorsports has reached 135 races, but Dale Earnhardt Jr. – its owner – seems as optimistic as he's been in a while.
Earnhardt Jr. was asked about the drought – he hasn't won since June 15, 2008 at Michigan International Speedway – again Thursday at Texas Motor Speedway, site of Saturday night's Samsung Mobile 500.
"I feel like we're six points out of the lead," he said. "We're second in points. We're a competitive team in this sport. I think it's a pretty easy argument to win that we're better this year than we were last year and better than the year before that.
"I feel like we're getting closer. I really don't know what the measuring stick is. I'm ready to go to victory lane. These guys are giving me real good cars. They deserve to win. I'm ready to make that happen. We're going to keep trying."
Junior said everything is aligning to have him in position to win.
"I just know I enjoy what I'm doing and the season we're having," he said. "I like going to the race track with the race team I'm working with and with the way things are going. It's my favorite thing. It's what I want to do. When I'm not doing that, it's what I want to do.
"Races can't come quick enough for us. I'm enjoying working and enjoying racing. I feel like we're gaining in getting to victory lane. Obviously, you want the races to come as far as they can so we can get closer and closer and try to win a race."
TMS would be a good place for that. It is the site of Earnhardt Jr.'s first Sprint Cup victory, one scored April 2, 2000. He also scored his first Nationwide victory at the track.
Crossing the finish line first in that 2000 Cup race at TMS was a watershed moment, Earnhardt Jr. said.
"You're just relieved because you want to be able to do this for a living, and there are no guarantees," he said. "When you win your first race – we did it at Texas, which has been good to me. They have used that fact that I won that race in various ways to make me proud of that moment and make it more special to me.
"You're just really relieved because you want to drive cars for a living. You want to be good at it and not struggle your whole life. Winning that first race cracks that mold away and gives you a little more clear vision on what your future might be."
Mike Hembree is NASCAR Editor for SPEED.com and has been covering motorsports for 30 years. He is a six-time winner of the National Motorsports Press Association Writer of the Year Award.