CUP: Almirola Showing Strength Three Races In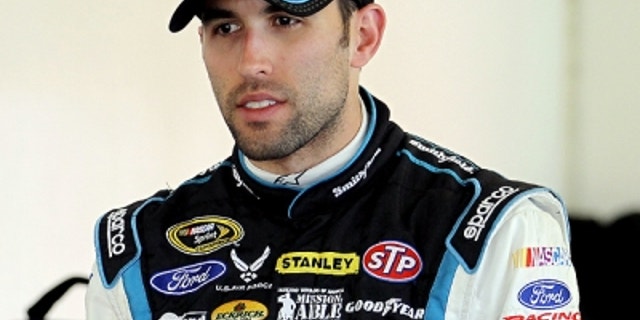 Can this be a breakthrough year for Aric Almirola?
It's started pleasantly enough. With race finishes of 13th, 15th and 16th and solid cars at each tour stop, Almirola rolls into Bristol Motor Speedway this weekend in 10th in Sprint Cup points.
Points After Las Vegas
It's early, true, and some drivers who show strength in the first month of the season fade quickly, but Almirola said a good finish to last season and a quick start in 2013 has caused optimism to flower at Richard Petty Motorsports.
"I think we're right on the cusp of that (being a top-10 team," Almirola said. "I feel like when you really sit down and think about it, you look at the race teams that are on the race track and you've got four Hendrick Motorsports cars, three Gibbs cars, the three Roush cars, the two Penske cars and when you start looking at it it's like, 'Man, there are a lot of good teams really deep into the field.'
"You've got three RCR cars, and then you throw Richard Petty Motorsports into the mix, and I feel like we are right there with those guys. I feel like it would be crazy for us to think that as new as we are, and the reality is we don't have the same amount of resources as some of the other teams, it would be crazy for us to think that we're a championship team at this moment. But I do feel like we're on the cusp of being a consistent top-10 team."
Almirola said RPM can compete with the mega-teams because of its strength in personnel.
"We do have less resources," he said. "We can't hide from that. We understand that. The only way to overcome that is to have great people, and that's what I feel like we have. We've got a great group of people here at Richard Petty Motorsports. We've got a lot of people that work really, really hard and work extremely long hours to make sure that our cars have every detail and every I and every T is crossed.
"That's really what this car comes down to. NASCAR has us in a pretty tight box with our rules, so it's all about the little things, and I feel like our race team does a great job of that. Todd Parrott is probably one of the most detail-oriented crew chiefs that I've ever met and he really gets his guys to rally around him and pay attention and focus on the details. That's one thing that I feel like we do a great job at is our cars are very detailed, and we take advantage of every single thing we can take advantage of."
Almirola, who finished 20th in points last season after some good runs late in the year, said he has to restrain himself from trying to race too hard and creating trouble, particularly early in the season.
"I made a few mistakes last year at the beginning of the year, and we dug ourselves a hole in the points and we never recovered from it," he said. "We spent the whole rest of the year clawing our way to get to 20th in points. … So I went into this year knowing that we were capable of running better, especially at the intermediate tracks and the mile-and-a-half tracks and stuff like that. The big thing for me the first few weeks of this year was to not make any major mistakes.
"I wanted to go out and have solid days – don't get caught speeding on pit road, keep our track position all day, and just race smart and put ourselves in position to where here in the next few weeks we can go compete and be a legitimate threat for trying to make the Chase. Right now, I know we're only three weeks into it, but myself and everybody on our race team feels like that's a possibility, and we just have to keep being smart and take what the races will give us. If we've got a 10th-place car, we need to finish 10th with it, and if we've got a car capable of running in the top five, then we need to run in the top five with it, but we can't push too hard and make a mistake and finish 35th. That would be really hard for us to rebound from."
Mike Hembree is NASCAR Editor for SPEED.com and has been covering motorsports for 31 years. He is a six-time winner of the National Motorsports Press Association Writer of the Year Award.