CUP: All-Star Power Rankings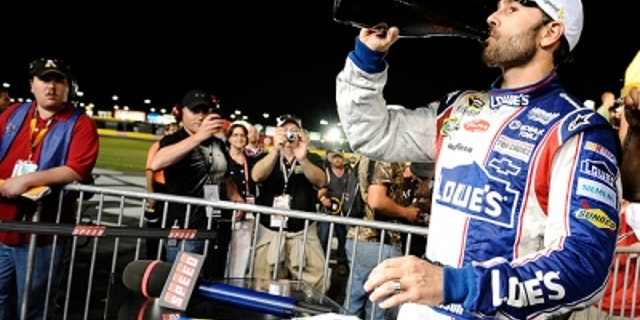 Five-time NASCAR Sprint Cup champion Jimmie Johnson holds onto the top spot in FOXSports.com/SPEED.com Power Rankings after eight great days of racing. His third Sprint All-Star Race victory ties him for most all-time with Jeff Gordon and the late Dale Earnhardt, stout company to be sure.
This week's list:
1. JIMMIE JOHNSON — Three events in eight days, three victories for Five-Time, culminating with a dominating win in the Sprint All-Star Race. He's back, for sure. Last week: 1st.
2. MATT KENSETH — The only one of the Roush Fenway Fords not to blow up, Kenseth's No. 17 was fast all night, but did not get a great restart on the last segment. Last week: 4th.
3. DALE EARNHARDT JR. — Junior Nation had reason to smile when Earnhardt crushed 'em in the Sprint Showdown, and he put on a good show in the big race, too. Last week: 5th.
4. BRAD KESELOWSKI — The best show of the night was Keselowski outdueling Kasey Kahne in the third segment. Great display of hard, clean racing. Last week: 9th.
5. GREG BIFFLE — Is the Biff's mojo starting to slip just a little bit? An exploding engine didn't help his cause in the all-star race. Last week: 2nd.
6. KYLE BUSCH — The good news was that Busch won the all-star pole and led 14 laps, but he was clearly just a notch behind the top cars. Last week: 6th.
7. DENNY HAMLIN — Hamlin led 16 laps and finished 20th. Hard to believe, but Joe Gibbs Racing still has never won an all-star race. Last week: 3rd.
8. TONY STEWART — Some minor front-splitter damage meant Stewart didn't have the night he wanted, finishing 17th Last week: 7th.
9. KEVIN HARVICK — Following an unfortunate early tangle with teammate Paul Menard, Harvick recovered to post a top-10 finish. Last week: 11th.
10. RYAN NEWMAN — After qualifying on the outside of Row 1, Newman drove a solid race to finish 10th. Last week: 15th.
11. KASEY KAHNE — Despite a terrifying crash in practice, Kahne put on an electrifying show racing Keselowski for the victory in segment three. He finished the race ninth. Last week: 13th.
12. MARTIN TRUEX JR. — It was surprising and frankly a little disappointing that Truex didn't transfer into the big show. Last week: 8th.
13. CARL EDWARDS — When Edwards' motor blew up, it blew up big, as he finished last among the 23 competitors. Last week: 10th.
14. CLINT BOWYER — It was not a great weekend for Bowyer, who finished 14th in the all-star race. Last week: 12th.
15. MARCOS AMBROSE — Hard not to be impressed by the controlled aggression Ambrose brought to the game. Last week: 18th.
16. AJ ALLMENDINGER — What an effort from The 'Dinger, who recovered from an opening-lap flat tired to finish second in the Showdown. Last week: Unranked.
17. PAUL MENARD — Truthfully, none of the three Richard Childress Racing Chevrolets was especially impressive. Last week: 14th.
18. JOEY LOGANO — Like Truex, Logano was one of those drivers who should have transferred, but didn't. Last week: 16th.
19. MARK MARTIN — It just wasn't a good weekend for any of the Michael Waltrip Racing Toyotas. Last week: 20th.
20. JEFF BURTON — The strugglefest continues for Burton, who couldn't transfer into the big show, either. Last week: 19th.
Tom Jensen is the Editor in Chief of SPEED.com, Senior NASCAR Editor at RACER and a contributing Editor for TruckSeries.com. You can follow him online at twitter.com/tomjensen100.