CUP: All-Star Gamble - What Are Teams Willing To Do To Win?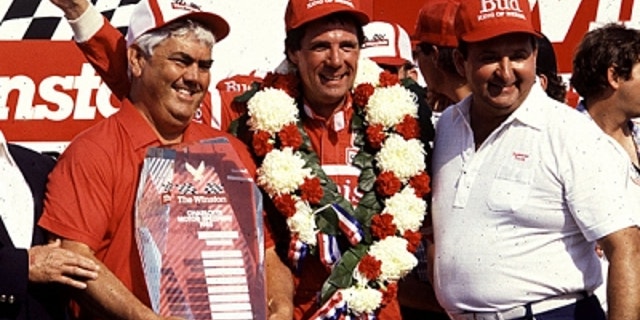 THE NASCAR ALL-STAR RACE GAMBLE
WHAT ARE CREW CHIEFS, DRIVERS & RACE TEAMS WILLING TO DO?
LIVE COVERAGE OF THE 2013 NASCAR ALL-STAR RACE BEGINS on FOX SPORT'S SPEED MAY 18 at 7 P.M. ET
Gambling is frowned on by some, celebrated by others. It's a powerful activity - Las Vegas is a town built on its existence.
But the big losses… well, you know where that stays.
It's also the name of the game when it comes to the NASCAR All-Star Race at Charlotte Motor Speedway (Live on FOX Sports' SPEED; Sat., May 18; 7 p.m. ET). If you don't take big risks, there's little reward in stock car racing's equivalent of 'high stakes' poker.
Former crew chiefs turned NASCAR on FOX/SPEED analysts Larry McReynolds and Jeff Hammond have been at the center of this fire. Hammond, the crew chief for NASCAR Hall of Famer Darrell Waltrip's Junior Johnson-owned Chevrolet when they won the inaugural All-Star Race back in 1985 and McReynolds, the leader of Davey Allison's dramatic All-Star victories for Robert Yates Racing (RYR) in 1991 and 1992, each knew what the risks were.
Their approaches however, were very different.
Johnson, Hammond and Waltrip went all in with preparation, moving every chip to the middle of the table, gambling that a cutting-edge race car would pass inspection and a calculated pit strategy would overwhelm the competition.
"We built a special car it had a special engine," Hammond said. "We had a plan because we looked at the overall format.
"The rules were so much different (back then) as we had a lot more liberties with our car," Hammond continued. "Our car at the time was at the cutting edge of technology. We had implemented making the right side of the car longer.
"The way we were able to do it and still fit the templates – NASCAR said it was okay – we basically had a skirt on the right side, which really helped the stability of the car. We also had longer quarter panels on the back, as they didn't have a measurement for what it had to be back then. We did things, and we really worked hard on that car, with the help of Chevrolet and their engineers. Back in '85, engineers were not a part of our organization, so we really depended a lot on our manufacturer to help us. Through that development, and all the hard work we put into developing that car, we had better race cars from that point on."
The inaugural event, also in Charlotte, was 70 laps in length, with a mandatory pit stop between laps 30 and 40. Eventual race leader Harry Gant stopped early in that window, while Hammond and his team had a different strategy, taking on tires a few laps later. The gamble paid off; as Waltrip's newer tires pushed him to cut a late race 3.1-second deficit to zero on the penultimate lap, allowing him to slingshot past Gant in turn four and walk home to victory. Waltrip and Hammond were All-Star heroes.
"It was so cool because it was such a unique weekend," Hammond recalls. "We ran that race after they ran the Nationwide race on that Saturday. Winning it that afternoon, with that special-built car, allowed us to accomplish something because everybody wants their name in the record books as the first to do something."
For McReynolds, the question was a different one in 1992. Known as 'One Hot Night,' it was the first time NASCAR had held the All-Star Race under the newly built lights at Charlotte Motor Speedway. The spotlight was a bright one for the sport, as a filled grandstand and the sporting world's wandering eyes had fixated on this new format.
The Robert Yates Racing organization still had a decision to make. Earlier in the year, Allison had captured the Daytona 500 and the prestigious Winston 500 from the Talladega Superspeedway. And with a victory at the Coca-Cola 600 only a week later - or a win at Darlington Raceway's Southern 500 that September - the team would capture RJ Reynolds much-coveted 'Winston Million' bonus.
The gamble… they didn't have a specially built car for the All-Star race, as the team already had a thoroughbred ready to go within the RYR stable. A car they were confident would not only sit on the Charlotte pole, but one that could also win the Coca-Cola 600 – and thus, a $1 million bonus.
"It didn't matter where we took it, a mile and a half or a two-mile race track, we knew we were going to be a contender to sit on the pole; we knew we were going to be a contender to win the race. Obviously, Robert Yates horsepower helped the cause quite a bit," McReynolds said.
"But just for about a 30-second conversation between Robert, Davey and me, we talked about not taking that car to the All-Star Race and saving it for the Coke 600. That's about how long it had lasted though… we immediately looked at each other and said, 'No. Our next race is the All-Star race and we want to go win it.' We want to learn all we can for the Coke 600, but we're not going to short-cut this because it's not a point's event.
The risk to that car competing in the All-Star Race was immense however. Something Hammond best described when he prepared their All-Star Race strategy, "You need to have a really good car, but it's got to be one that's expendable because more than likely, it won't be coming back in one piece."
As it turned out, it became one of the most dramatic decisions in NASCAR and All-Star Race history.
Allison, coming off turn four with more momentum and horsepower, edged out Petty at the line, but was clipped in the process and hurtled into the outside wall. The prized No. 28 RYR Ford was severely damaging and the race winner was sent to the hospital, where he spent two days celebrating victory with a broken collar bone, re-injured ribs and bruising on more than 60 percent of his body.
"That was the year that we were winning one weekend, crashing the next," McReynolds said. "Winning and wrecking… of course that night we had figured out how to do both."
Allison did return the following week, finishing fourth in the 600 and fifth in a rain-shortened Southern 500 that September.
Today, the things you do to the race car better stay inside NASCAR's rulebook. The scrutiny is the same from any other week, and the penalties, they remain harsh.
Driver Carl Long found this out the hard way, as dreams of a spot in the All-Star Race inspired his team to play chicken with NASCAR's rulebook. They lost.
He continues to suffer the consequences of a $200,000 fine he received in 2009 after NASCAR found the team's engine to be .17 cubic inches too large following post-race inspection for the Sprint Showdown – the last-chance race allows the top-two finishers to transfer to the All-Star event.
"NASCAR handles that race no different than they will inspection for the Coke 600," Hammond said. "They are going to be just as hard with the rules; there's not going to be any gray area that won't exist the next week, or the week before at Darlington."
McReynolds and Hammond, their risk strategies paid dividends. 'One Hot Night' is still thought of as one of the most exciting race finishes of all time. It will be relived over and over for years to come, placing McReynolds, Allison and RYR nicely within the annals of NASCAR's history books.
As for Hammond and Waltrip, they went on to win the Coca-Cola 600 that next day – which may not only have been historical within the walls of NASCAR, but could have signaled that something much larger was on the way as well.
"The final and most fitting part of that was being able to sit on the start-finish line on Monday morning – I think it was on Good Morning America," Hammond said. "We were there with our two cars. Darrell was there. That was the same year as the 'spin and win' Danny Sullivan had there in Indy.
"They also had him on the start-finish line in Indy," Hammond continued. "It was big for our sport because we had finally reached a place where we were even with Indy. We hear so much about the 600, but I think in '85, we really felt like we were finally on equal ground with the Indy 500."
NASCAR Sprint All-Star Race weekend television schedule (all times ET & subject to change):
Friday, May 17
? NASCAR Camping World Truck Series final practice (10:30 a.m., LIVE)
? NASCAR Sprint Cup Series practice: Showdown (Noon, LIVE)
? NASCAR Sprint Cup Series practice: All-Star (1:30 p.m., LIVE)
? Trackside (3 p.m., LIVE)
? NASCAR Camping World Truck Series qualifying (4 p.m., LIVE)
? NASCAR Sprint Cup qualifying: Showdown (5 p.m., LIVE)
? NASCAR Sprint Cup qualifying: All-Star (6 p.m., LIVE)
? NCWTS Setup (7:30 p.m., LIVE)
? NASCAR Camping World Truck Series race (8 p.m., LIVE)
Saturday, May 18
? SPEED Center: NASCAR Edition (3:30 p.m., LIVE)
? NASCAR RaceDay Fueled by Sunoco: Special All-Star Edition (4 p.m., LIVE)
? NASCAR RaceDay Fueled by Sunoco (5 p.m., LIVE)
? NASCAR Sprint All-Star Race (7 p.m., LIVE)
? NASCAR Victory Lane (11 p.m., LIVE)
Sunday, May 19
? Inside the Headsets: 2013 NASCAR Sprint All-Star Race (8:30 p.m.)