CUP: A Wild Day For Wild Cards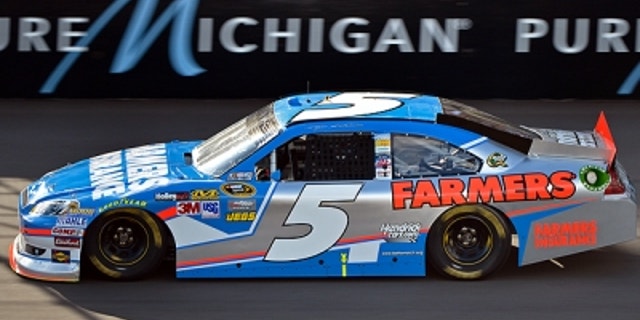 Kyle Busch needs a win. So does Carl Edwards. And Joey Logano. And Jeff Gordon.
The uncertainties of the wild-card race for positions in the Chase for the Sprint Cup field should add some spice to Sunday's Pure Michigan 400, a race already more interesting than normal because of the evolving track surface.
The 23rd race of the Sprint Cup season is scheduled for a 1 p.m. start at Michigan International Speedway.
With only four races remaining to the Chase cutoff at Richmond, the wild-card carousel will be in full focus Sunday. Kasey Kahne, with two wins, currently holds the first card, and Ryan Newman owns the second. Newman has the most points in a group of five drivers with one victory.
A second win by Busch, Gordon, Logano or Marcos Ambrose (last week's winner at Watkins Glen) would place the winner alongside Kahne in the wild-card race.
Edwards, with no victories, currently sits seventh among the wild-card drivers. His only real hope of reaching the Chase is a scenario in which he wins two of the next four races. That's unlikely, but Edwards has had a strong car in two days of practice here and could be a significant threat.
The race should be interesting from the standpoint of Hendrick Motorsports' top two cars.
Dale Earnhardt Jr., who won the race here in June to end a horrendous winless streak, had turned fast practice laps in the same Chevrolet in which he scored that victory, but he crashed the car late in the final practice Saturday. The team went to a backup car, but there was no time for Junior to run the car in practice.
Jimmie Johnson, the series point leader, ran the final practice with a new engine.
Earnhardt Jr. and Johnson will start the race at the rear of the field.
Ageless Mark Martin won the pole and will be in search of his first victory in a part-time role this season.
The race will be the second on the track's newly repaved surface.
Mike Hembree is NASCAR Editor for SPEED.com and has been covering motorsports for 30 years. He is a six-time winner of the National Motorsports Press Association Writer of the Year Award.