CUP: A Scarlet Letter For Allmendinger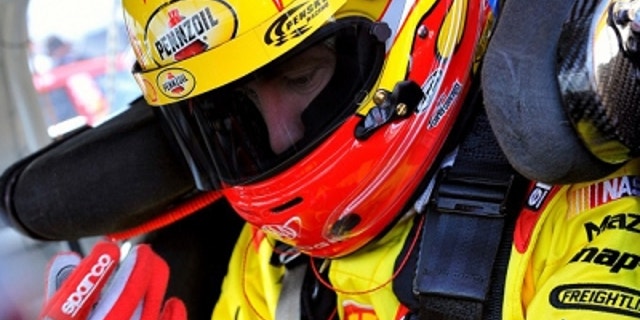 AJ Allmendinger has been generally quiet – at least in public – about his troubles with NASCAR since the sanctioning body suspended him July 7 for failing a random drug test.
In the wee hours of Wednesday morning, after a second test confirmed the presence of a banned substance in Allmendinger's urine sample, the driver posted on his Twitter account: "I'm sorry we even have to have this going on. But I promise I will do whatever it takes to get to the bottom of this and get back [out] there no matter what."
Through a spokesman, Allmendinger earlier had claimed he had not "knowingly" taken a banned substance. And his organization said it has signed on an expert to test products in the driver's possession for ingredients that might have triggered the positive results.
Although the NASCAR rulebook allows the sanctioning body to reveal the name of the banned substance in the test, NASCAR chooses to keep it confidential to protect the driver's privacy, the organization says.
Now, as team owner Roger Penske plans for a race-team future that does not include Allmendinger (at least in the short term), Allmendinger's road is not clear.
Although Allmendinger tweeted Wednesday morning that he plans to "get back out there," there has been no confirmation that he will participate in NASCAR's "Road to Recovery" program, a rehabilitation process that suspended drivers and other team members must go through to earn reinstatement.
Even assuming Allmendinger signs on for the rehabilitation program and completes it, his future in the Sprint Cup Series is clouded, at best. Although Penske could choose to reinstate Allmendinger at some point, the team owner is likely to move forward with another driver over the next few months.
Allmendinger is only the second Sprint Cup driver (following Jeremy Mayfield) to fail a drug test since NASCAR reorganized its drug testing program. Mayfield, who tested positive for methamphetamines, challenged the test results in court but failed.
The test failure is likely to follow Allmendinger like an ugly shadow, even if he chooses to attempt to race in other major forms of motorsports. The NASCAR suspension obviously does not apply to series outside those run by the Daytona Beach, Fla.-based organization, but a driver carrying the scarlet letter of a drug-test failure isn't likely to be greeted with open arms by top teams in other racing series. Major sponsors also could be difficult to convince.
After successes in go-cart and sports car racing, Allmendinger won the Champ Car Rookie of the Year award in 2004 and finished third in that series' point standings in 2006. He moved into NASCAR racing that season in the Camping World Truck Series.
In 2007, Allmendinger joined the Sprint Cup Series with Red Bull Racing and later moved on to Richard Petty Motorsports from 2009 to 2011 before signing a one-year deal with Penske for this season.
He has not won a Sprint Cup race and has struggled this season, although some of the team's difficulties can be traced to mechanical problems.
Mike Hembree is NASCAR Editor for SPEED.com and has been covering motorsports for 30 years. He is a six-time winner of the National Motorsports Press Association Writer of the Year Award.