CUP: A Rebound For Hamlin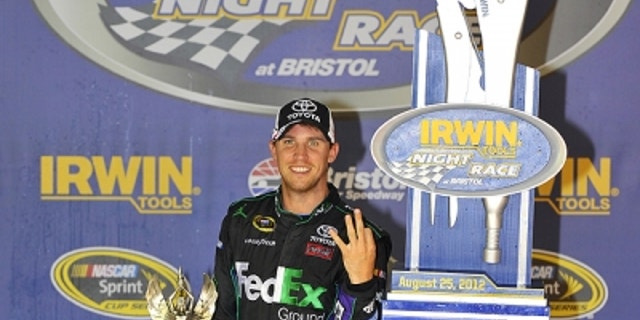 NEWYou can now listen to Fox News articles!
Denny Hamlin hadn't exactly been burning up the Sprint Cup circuit in the runup to Saturday night's race at Bristol Motor Speedway, a track he had not conquered in 13 previous visits.
There was little reason to expect that Hamlin would be a major victory threat in the Irwin Tools Night Race.
But, at the end of a remarkable evening, one punctuated by a string of accidents, an Olympic-style helmet toss by Tony Stewart, some serious finger-pointing by Danica Patrick and a changeable track that held its surprises until near the end, Hamlin was the ultimate survivor.
He led 70 laps, including the final 39, and put some fire back into a late-summer season stretch that had seen him fall to 10th in the point standings.
An accident left Hamlin 29th at Pocono, and an engine failure resulted in a 34th-place finish at Watkins Glen. He rebounded for a mediocre 11th at Michigan but still sat 10th in points.
Saturday night's run lifted Hamlin into a much-safer spot in the standings in eighth. And it came despite a load of trouble.
Hamlin had a pit-road encounter with Landon Cassill that could have ruined his evening. He smacked the wall, wrestled with a water deficit and walked the fine line between losing control of his car after he made the race-winning pass of Carl Edwards.
"We had no water in the car," Hamlin said. "We were 300 degrees early on in the race, and, all of the gauges pegged, shooting water out like it's a superspeedway race. Evidently, we had an electrical fan go bad, and so we spewed most of our water out, and we hit the wall pretty good. We hit, landed on pit road and I told Darian (crew chief Darian Grubb), the more stuff we hit, the faster it went.
"As soon as you think that it's over, it's like, damn, we hit something. Oh, man, this thing's awesome. This is great."
The victory put the Joe Gibbs Racing team on more solid footing with the start of the Chase for the Sprint Cup looming.
"It feels like we should have way more wins than that as competitive as we were," said Hamlin, who now has three victories. "You look at New Hampshire (second-place finish) – had a dominating car there. But talking with some of the crew guys and even Darian, as long as we don't have a failure or we don't get in a wreck, we can win anywhere we go. And that's something that we have not had since 2010, you know, being able to win at every different track at any type of course.
"So, it's a good feeling to know that you can go to a race track and win any given week, and that gives you a lot of confidence. For me, even though it shows three wins, I feel like we've got five or six."
Mike Hembree is NASCAR Editor for SPEED.com and has been covering motorsports for 30 years. He is a six-time winner of the National Motorsports Press Association Writer of the Year Award.