CUP: A New Kind Of Champion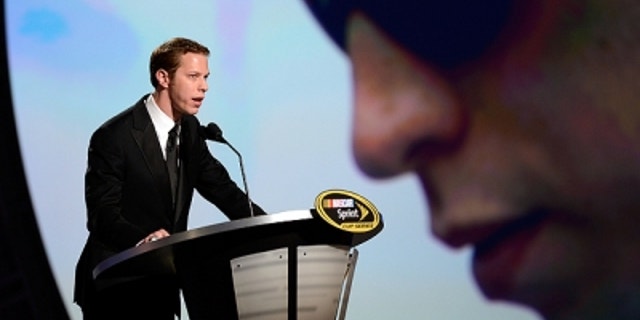 Brad Keselowski roared into NASCAR as something of a wild child.
That idea was no better illustrated than on April 26, 2009 at Talladega Superspeedway. He took no prisoners that day, driving an underfunded Phoenix Racing Chevrolet far past the ragged edge, spinning Carl Edwards into the fence near the finish line to win the race.
He was only 25. It was only his fifth Cup start.
Fast-forward three years, and it's a different Brad Keselowski who wears the Sprint Cup championship ring into the 2013 season. He's still Bad Brad on occasion, and his sometimes-goofy personality still shines through, but he has developed into a mature driver who thinks ahead, handles adversity well and works well within the framework of a large organization to produce results.
"Obviously, Brad has got not only the raw talent, but I think he's a thinking driver," said team owner Roger Penske, who won his first Sprint Cup title, courtesy of Keselowski. "I think his windshield is bigger than people realize. He knows what's going on and takes care of his car. …
"I think he's going to be a multiple champion, and I hope that Paul (crew chief Paul Wolfe) and the team can continue to grow on the success we had … this year and we can go on and do it again."
That would surprise no one. Keselowski seems the opposite of a flash-in-the-pan success. He was raised on short-track racing in his family's operation and bumped along through enough hard knocks to understand what it takes to arrive in the fast lane.
"I know that you can expect from this team to come back next year and try to be better than ever and try to improve and find that next level of success," Keselowski said. "I know that's what you can expect from this team, and I'm going to be right there with them."
He said fitting into the Penske Racing organization produced the path that led to the championship.
"I think I suffered from some serious confidence issues when I first came into Cup that were a result of, you know, a lot of things, mostly just not having the speed to be successful and trying to do too much," he said.
"I was trying too hard to be the 'I' in team, and there is none, and that's pretty obvious looking back now. But I didn't know that. I do now.
"But it's not until you have a group around you that shows you that you don't have to do all the work, that you can share it, and that as long as you respect them, care about them and work with them, you can be successful. And that's something I had to learn on my own. I never had anybody teach me that. Nobody ever taught me about teamwork. That's something I had to learn on my own.
"My family and my parents, they taught me about work ethic, they taught me what it meant to be a part of a family that had each other's backs, but it's a lot different when you're not family. It's a lot different when you walk into a group, what are we, like 390 employees now, 350, somewhere in that neighborhood, I'm not related to any of them."
Now he is. Now they're the First Family.
Mike Hembree is NASCAR Editor for SPEED.com and has been covering motorsports for 30 years. He is a six-time winner of the National Motorsports Press Association Writer of the Year Award.