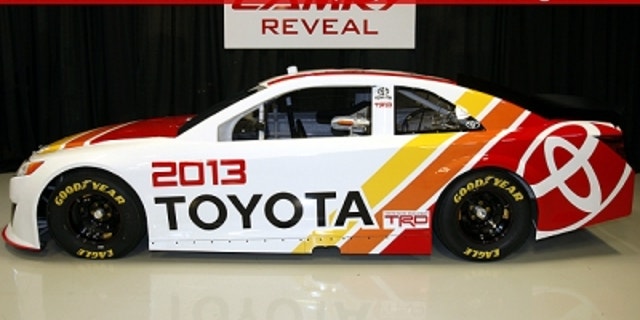 Toyota unveiled its 2013 Sprint Cup model Tuesday, following NASCAR's other manufacturers in making its Camry competition model very close in appearance to its high-volume street car.
In a design process that began in late 2010, NASCAR worked with its four manufacturers to create race cars that will be more solidly linked in appearance to the models sold in Chevrolet, Dodge, Ford and Toyota showrooms – a decision all sides deem critical for future years.
Although each of the competing models will fit NASCAR templates in key areas, the four manufacturers were given freedom to develop signature parts of the cars to make them very similar to street models. The give-and-take tradeoffs necessary to such a process were hammered out in a series of weekly meetings between engineering representatives from each car builder.
Final approval of the four proposed models is expected in late summer or early fall, with on-track testing to follow.
Joe Gibbs Racing driver Kyle Busch drove the new car from outside through a garage opening into the Toyota Racing Development center, home to much of the car's developmental process.
NASCAR president Mike Helton, vice president Robin Pemberton and a raft of Toyota officials attended Tuesday's announcement.
Helton said design of the four new 2013 models has gone well despite the fact that the manufacturer representatives participating in the effort are obviously seeking ways to beat each other.
"I think the timing was right for all the manufacturers to get together and look at it a little differently," Helton said. "There was an understanding that this is where we needed to get to. NASCAR has worked with the manufacturers to help keep the 'styling' in.
"The race teams want to turn them into race cars. It's kind of fun because while we're chasing styling with the manufacturers, the race teams are still chasing race cars. They're wanting 'round' and 'easy through the air.' "
Joe Gibbs Racing, Michael Waltrip Racing and JTG/Daugherty Racing field "factory" Toyotas in Sprint Cup racing.
Waltrip said his team's challenge will be to do construction and development work on the 2013 model while still scoring strong finishes in 2012, which has been a breakthrough year for MWR.
"We really are just now getting to the point where we have a car we can start working with." Waltrip said. "We've been through a lot to get it to this point.
"Our challenge is to continue developing and improving our 2012 car. That same brainpower and manpower we need to be working on designing and building our 2013 cars. We might have to look at adding more people because we're going to double our workload working on two different cars."
Waltrip said fans will like the 2013 model's street-friendly design.
"We 'pizzazzed-up' the Sprint Cup car," he said. "It has a lot of unique character lines and is a unique race car. I think that's something the fans will appreciate. It's more about styling and having fun again."
Mike Hembree is NASCAR Editor for SPEED.com and has been covering motorsports for 30 years. He is a six-time winner of the National Motorsports Press Association Writer of the Year Award.