CUP: A Ford In Almirola's Future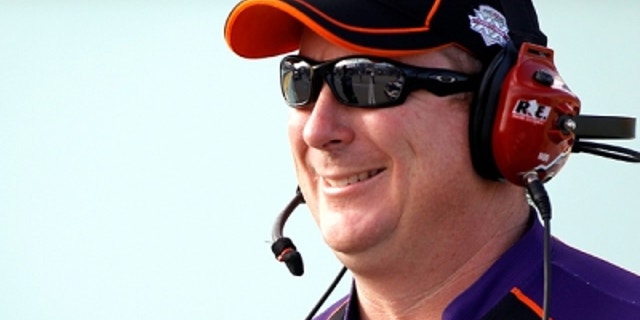 Mike Ford wasn't going to stay unemployed too long. There was never a question of if he'd back as a NASCAR Sprint Cup crew chief, just where and how soon.
The answer came on Monday, when Ford was named crew chief for Aric Almirola and the iconic No. 43 Richard Petty Motorsports Ford Fusion. Ford replaces Greg Erwin, who lasted less than a full season with Almirola.
Ford, of course, was crew chief for Denny Hamlin at Joe Gibbs Racing for the previous six seasons, all of which featured Hamlin making the Chase for the Sprint Cup. Hamlin nearly won the title in 2010, and when he didn't he spent most of 2011 in a serious funk. As is so often the case, when the driver isn't right with the world, it's the crew chief that gets fired. That happens every year and Ford was one of the victims, replaced by Darian Grubb, who in turn was fired by his boss, Tony Stewart.
So far Almirola isn't having a terrible season; he is 24th in points nine races in to his first year with RPM. That's just two spots behind the team's veteran driver., Marcos Ambrose.
Still, the team thought now was the right time to make a change.
For his part, Ford has experience in these types of situations, having taken over mid-year at JGR seven years ago. "Yeah, I took over the 11 car in the middle of the season back in 2005," Ford said. "I joined in the middle of the season and had the big driver juggle with five different drivers in that car the second half of the season. That was a little different situation but I have definitely dealt with it before."
So Ford knows what the drill is heading to Talladega this week.
"I think you basically realize that it is me that is on the steep learning curve," he said. "I have to position myself to get in front of the machine, if you will, and to be able to give guidance and be able to steer the ship and move it forward. I am on the steep learning curve and I have learned that in the past."
Job one is to well and truly understand where the team is now and what it needs to improve.
"I have to double down here the next few weeks and really study why this 43 has evolved to where it is at and try to study if we want to change course or move it forward just a little bit more," said Ford. "That is the course I have to be on and in order to do that I have to rely on the guys that are here. I have to be able to ask the right questions to speed that learning curve up."
Coming to Talladega this week is something of a benefit, in that the cars are already built and there's less wiggle room, rules-wise, at plate tracks than there is anywhere else.
"I won't call it easy but it is less taxing than next week at Darlington will be," Ford said of Talladega. "There are so many restrictions that you have and not a lot that you change once you get there. I know all the Fords were fast in Daytona and are looking to be that way in Talladega. The thing this week coming in mid-stride is relying on the equipment they have prepared looking it over and seeing if I have anything that is glaring that can be easily achieved for some good runs in practice to see if we can improve. I look to call a good race and hopefully Aric can run toward the front and keep himself out of trouble."
As for Almirola, he's ready for a fresh set of eyes.
Asked about Ford, Almirola said, "He brings a lot of leadership to the team and brings a lot of experience and just a whole new fresh set of ideas and whole new perspective on things. I am excited about working with Mike. He worked with Denny (Hamlin) during his rookie year at Gibbs and they had success together. I am looking forward to having someone that is going to be able to guide me and teach me."
Tom Jensen is the Editor in Chief of SPEED.com, Senior NASCAR Editor at RACER and a contributing Editor for TruckSeries.com. You can follow him online at twitter.com/tomjensen100.