CUP: A Cool Time At Daytona?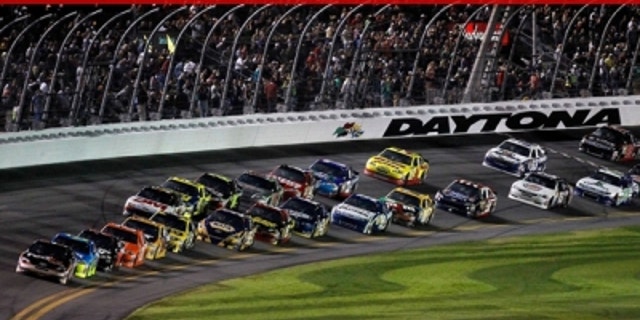 NEWYou can now listen to Fox News articles!
It's time to head to the annual NASCAR kickoff of summer at Daytona Beach to cool off.
Huh?
Oddly enough, temperatures at this weekend's Coke Zero 400 activities at Daytona International Speedway in Florida are expected to be noticeably cooler – perhaps about 10 degrees – than the scorching numbers posted last week in a cookpot of a racing weekend at Kentucky Speedway.
Not to say you'll need a jacket, however. High temps at the track will probably be around 90 degrees Thursday, Friday and Saturday as the tour reaches its traditional halfway point.
The speedway surface might not be as slick as in some past summer events at Daytona, but drivers and teams still will approach the weekend with a few unknowns about how racing is continuing to evolve at the two restrictor-plate tracks.
"I think with the smaller spoilers and everything that we started the year with at Daytona and with a pretty big increase in temperature (over February), I'm a little bit curious as to how the handling of the car will be," said Kevin Harvick.
Brad Keselowski, winner of Saturday's race at Kentucky, said he expects a repeat of the 500.
"I would expect a carbon copy of the Daytona 500," he said. "The hotter temps certainly require a little more cooling in the engines, so I think that will negate the effect of the bigger pop-off valve. So, I would say I would expect the same thing as the Daytona 500 and the same group of guys will probably be fast. The same group of guys that were not fast will probably struggle, so I would say it would be a carbon copy of that."
As is almost always the case at Daytona and Talladega, Saturday night's race is likely to be tight over the closing laps.
"We are trying to heat and cool the engines, and the ERV valve – we are trying to keep it from popping off, so you just know it's going to be a challenging race and it's going to be exciting at the end, but you have to be there," Jeff Gordon said. "And that is what we are going to be working hard on is to be there when it counts at the end."
Gordon said Sprint Cup drivers continue to race in a "box" of sorts at Talladega and Daytona, where tandem drafting has declined but concern about overheating has been elevated.
"I know that tandem races are not something that I enjoy, but watching your gauges to not overheat more than what I am watching what is going on in front of me is not what we should be doing, either, so it's a challenging position because we are kind of strapped based on the body of what we have there," he said. "That car just punches such a big hole, and that is what is created and the bumpers don't line up. So that is what has got us into the box we are in, and I don't know if there is any real fix to get us out of it soon."
Matt Kenseth, the Daytona 500 winner and the series point leader, hopes to get some payback from the spring Talladega race, where he had a great car but lost out in the shuffling at the end of the event.
"I looked forward to going to Talladega more so than any plate race I have ever looked forward to in my career with as good as we ran at Daytona and how fast our cars were," Kenseth said. "I feel the same way about Daytona, and I am looking forward to getting down there. At Talladega, I felt we had by far the fastest car in the race and dominated the race as much as you can, but I felt like I messed that up at the end when Greg and I got together and somehow got separated.
"I have been kind of agonizing over that since Talladega with that green-white-checkered and how I lost that race for my guys. I am looking forward to getting some redemption and also coming off that win at Daytona. The rules worked really good for us. Our cars have been fast, and we have been able to pass. They get hot when you get back in the pack, but if we can keep them toward the front and we have enough speed we seem to be OK. I am going back hoping it will be the same."
Two rounds of Sprint Cup practice are scheduled at Daytona Thursday. Qualifying is scheduled at 4 p.m. ET Friday. The race is scheduled at 7:30 p.m. Saturday.
Mike Hembree is NASCAR Editor for SPEED.com and has been covering motorsports for 30 years. He is a six-time winner of the National Motorsports Press Association Writer of the Year Award.