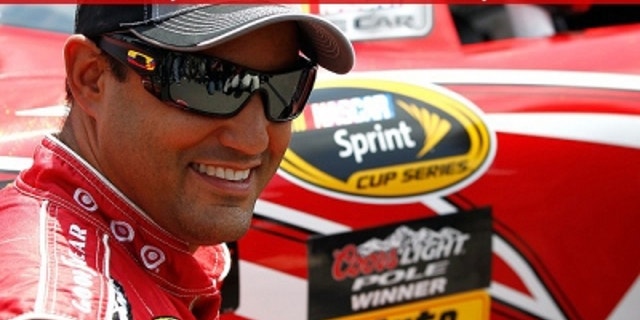 This season has been a struggle for Juan Pablo Montoya, who continues to spin his wheels while searching for a way back to Chase-level racing.
He enters Sunday's Pennsylvania 400 at Pocono Raceway 21st in points, with no top-five finishes and only two runs in the top 10. Jamie McMurray, his Earnhardt Ganassi Racing teammate, has fared only marginally better, sitting 19th in points.
Despite high-level personnel changes in the off-season, the Ganassi team remains in the shadow of the sport's leading operations.
On Sunday, Montoya has a shot to break through into the sunshine. He won the pole – his eighth career pole – Saturday and will start the race alongside Denny Hamlin on the front row. The green flag is scheduled for 1 p.m.
"We all get frustrated," Montoya said of his season. "We always have our moments. I will tell you the truth – if you don't get frustrated, it is because you don't care. I care a lot about this program.
"We have had our good moments, our bad moments, but I know how hard people are working to make this better. I have worked harder this year than any other year. We really want to come out ahead on this. I think we've got a ton of new people in the shop, and we have good ideas. Our starting point was so far off that to get there it's going to be a long road."
Montoya described the pole run as a "big boost. We've been working so hard, and we really need a little bit of light. We know we're working in the right direction. We feel the cars are getting a little better. But to actually get out there and get a pole is big."
Montoya said the team has much more ground to cover.
"I think we're quite a ways away from where we want to get to," he said. "We want to be able to come every weekend knowing that you can go out there and be the Hendrick or you can be like Gibbs. That's our goal.
"As a driver and having the commitment and knowing that you're going to a race track and knowing that you're going to be great. Right now, for us, we're going to a race track into the unknown. It's hard."
Also starting in the top five today will be Paul Menard, Kasey Kahne and Marcos Ambrose.
Weather could be an issue for the race. Showers are forecast for the speedway area in late morning, and there is a 90 percent chance of rain later in the day.
Mike Hembree is NASCAR Editor for SPEED.com and has been covering motorsports for 30 years. He is a six-time winner of the National Motorsports Press Association Writer of the Year Award.