CUP: 48 Team Slapped Hard By NASCAR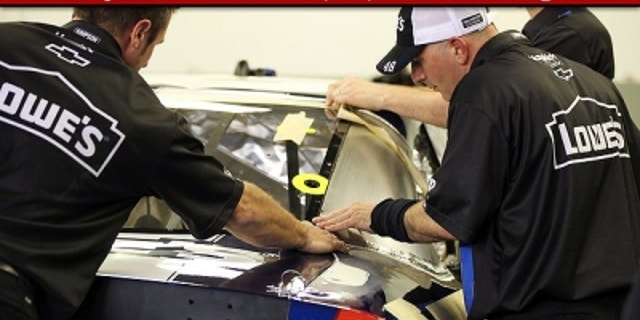 As expected, NASCAR came down hard on Hendrick Motorsports for the illegal C-pillars found on Jimmie Johnson's No. 48 Chevrolet prior to Daytona 500 qualifying.
No. 48 team crew chief Chad Knaus and car chief Ron Malec were each suspended until April 18, a period equal to the next six NASCAR Sprint Cup Series races, and placed on NASCAR probation until May 9. Knaus was also fined $100,000. Driver Jimmie Johnson and Jeff Gordon, who is listed as the car's owner, have been penalized with the loss of 25 driver and 25 owner points, respectively.
The penalty will put Johnson in a deep points hole. Johnson earned just 2 points for his 42nd-place finish in the season-opening Daytona 500, and the fine drops his points total to -23, vs. 47 for leader Matt Kenseth. That's a huge deficit to begin the season with, and with Knaus and Malec gone for six weeks, Johnson may be faced with a long uphill struggle.
Officially, the No. 48 car was found to be in violation of Sections 12-1 (actions detrimental to stock car racing); 12-4J (any determination by NASCAR officials that race equipment used in the event does not conform to NASCAR rules detailed in Section 20 of the rule book or has not been approved by NASCAR prior to the event); and 20-2.1E (if in the judgment of NASCAR officials, any part or component of the car not previously approved by NASCAR that has been installed or modified to enhance aerodynamic performance will not be permitted – unapproved car body modifications).
This Knaus's third major rules infraction at Daytona.
In July 2002, he was fined $25,000 and Johnson lost 25 points for illegal rear trailing arms designed to get the car lower in back.
In Feb. 2006, Knaus was ejected from Daytona International Speedway, fined $25,000 and suspended for four races for a movable rear window detected after Daytona 500 qualifying. Officially, NASCAR officials said the No. 48 Chevrolet failed to fit the templates used to regulate aerodynamics.
Hendrick Motorsports intends to appeal the penalties for the current rules violation.
"Our organization respects NASCAR and the way the sanctioning body governs our sport," said Rick Hendrick, owner of Hendrick Motorsports, in a statement. "In this case, though, the system broke down, and we will voice our concerns through the appeal process."
Knaus and Malec will continue to work until the appeal is heard.
Tom Jensen is the Editor in Chief of SPEED.com, Senior NASCAR Editor at RACER and a contributing Editor for TruckSeries.com. You can follow him online at twitter.com/tomjensen100.