CUP: 2013 NASCAR Media Tour Blog - Tuesday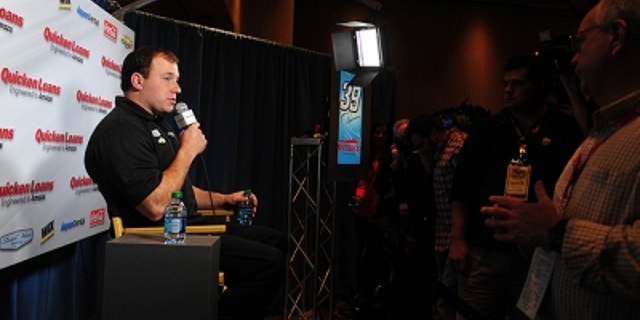 Editor's note: Each day, we will bring you the latest reports from the Charlotte Motor Speedway Sprint Media Tour. Check back for frequent updates.
[Tuesday 8:45 am ET]
QUICK START? – Kurt Busch, who joined Furniture Row Racing late in 2012, finished the season with a three-race run of top-10 finishes, giving the team some solid background for the start of 2013. "It's great seeing this team come together in the fashion it has," Busch said. "It was great to have those six weeks to get team communication up and to feel comfortable."
[Tuesday 8:00 am ET]
TOURING, PART TWO – It's Day Two of the Charlotte Motor Speedway Sprint Media Tour. Stops today include Furniture Row Racing, Michael Waltrip Racing, the NASCAR Hall of Fame and a meeting with Chevrolet drivers.
[Tuesday 7:40 am ET]
JUNIOR AND THE KING – Rounding out Monday night's activities was the announcement that Dale Earnhardt Jr. has joined Richard Petty as a spokesman for Goody's pain relievers. Petty has worked with Goody's for 37 years. The arrival of Earnhardt Jr. gives the company two of the sport's most popular participants.
Mike Hembree is NASCAR Editor for SPEED.com and has been covering motorsports for 31 years. He is a six-time winner of the National Motorsports Press Association Writer of the Year Award.