CUP: 10 Drivers Who Need To Man Up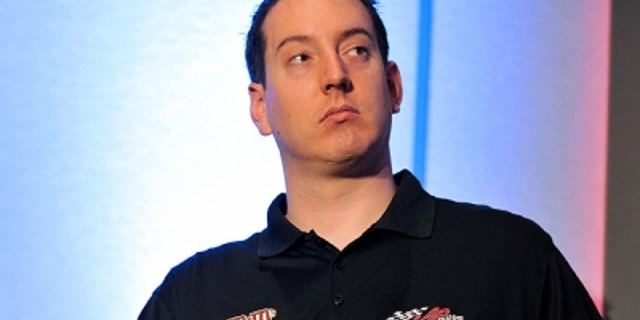 With the NASCAR portion of Daytona Speedweeks less than a week away, most teams already are fully prepped and pumped up for the 2012 Sprint Cup season.
There are plenty of questions marks from top to bottom in the Cup ranks, with a lot of drivers needing to rebound after disappointing 2011 campaigns. Here's SPEED.com's list of 10 drivers who need to man up and get it done in 2012.
1. KYLE BUSCH — Forget about Texas last year. What Kyle Busch needs to work on isn't his temper; it's about being relevant in the Chase for the Sprint Cup. In 69 Chase races, Busch has just one victory — in 2005 at Phoenix — and in four seasons at Joe Gibbs Racing, he's never finished better than eighth in points. Can Busch mount a serious championship charge this year?
2. AJ ALLMENDINGER — Getting a seat with Roger Penske's team was the biggest break of Allmendinger's somewhat erratic NASCAR career. Now, he has to do something with it — win races and make the Chase. The 'Dinger had the best year of his career in 2011 and must have a better one in 2012.
3. DENNY HAMLIN — By orchestrating the departure of crew chief Mike Ford, the pressure clearly is on Hamlin to return to championship form after a disappointing 2011 campaign that saw him win just one race. Will new crew chief Darian Grubb and some counseling from a sports psychologist be enough for Hamlin?
4. KURT BUSCH — After controversial exits from Roush Fenway Racing in 2005 and Penske Racing last year, Kurt Busch is now driving for the 18-employee Phoenix Racing squad. This year, he will fight for a shot at getting back to a bigger, more competitive team next season.
5. JOEY LOGANO — The youthful Logano said the addition of crew chief Jason Ratcliff has breathed new energy and enthusiasm into the No. 20 Joe Gibbs Racing team. Time will tell. And if Logano doesn't get the job done this year, he could be looking for a new ride for 2013.
6. DALE EARNHARDT JR. — NASCAR's most popular driver made huge strides with new crew chief Steve Letarte last year. Still, in four years with Hendrick Motorsports, he's won just one points race and finished in the top 10 in points only once. This year, nothing less than winning multiple races and making a deep title run will satisfy his legion of fans.
7. JUAN PABLO MONTOYA — When he came over from Formula One in 2007, Montoya had the reputation of being one of the best racers in the world. Five seasons in NASCAR have produced two race victories and an average points finish of 18.2. Part of that is down to Earnhardt Ganassi Racing with Felix Sabates. But part of it falls squarely on Montoya, who needs to improve this year.
8. JEFF BURTON — A 20th-place points finish was Burton's worst in the Sprint Cup Series since he drove for the Stavola Brothers in 1995. Richard Childress Racing has retooled considerably over the winter and Burton should show better this year. He certainly needs to.
9. CLINT BOWYER — By any empirical measure, Bowyer is moving from one team (Richard Childress Racing) that enjoyed great success, to Michael Waltrip Racing, which hasn't produced the results RCR has over the years. Does Bowyer have the ability to put his new team on his back and carry it?
10. GREG BIFFLE — From 2008-2010, The Biff won four races and never finished lower than seventh in points. That makes his 16th-place points finish — Biffle's worst since 2004 — all the more baffling.
Tom Jensen is the Editor in Chief of SPEED.com, Senior NASCAR Editor at RACER and a contributing Editor for TruckSeries.com. You can follow him online at twitter.com/tomjensen100.