Cullen Jones adds to Olympic trophy case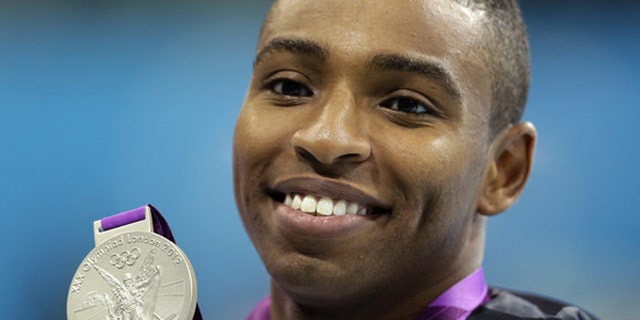 NEWYou can now listen to Fox News articles!
Michael Phelps may be a household name, but there's room in the pool for Cullen Jones.
Jones, 28, followed up his 2008 gold medal for the 4 x100-freestyle relay with a pair of silver medals in London, one for the 4 x 100 relay and the other in the 50-meter freestyle. He told Fox News.com in an exclusive interview that his passion for the water began when he was a kid and had a scary brush with death at a water park when he fell off the ride.
"I almost drowned at a young age," Jones recalled. "I was under the water for 30 seconds. I was non-responsive and they had to completely resuscitate me.
"When I came to the first thing I wanted was to get on another ride."
Such a harrowing event may have kept most people on dry land, but Jones was completely unfazed. And as he got older, swimming became his favorite activity -- even though greatness came slowly.
"I was 16 when I finally thought I could get better at swimming," Jones said. "I was the kid that got the pink ribbon…that's sixth or seventh place! I was not a child prodigy. Becoming a good swimmer was something that took time and many years of effort."
During the 2012 Summer Olympics 4 x 100-meter freestyle race, the U.S. Olympic team came in second place to France. Cullen's replayed the race in his mind countless times, and always finds himself crediting Yannick Agnel, the star of the French team whose split of 46.6 seconds helped his team stand atop the podium
"I would never say anything that would take away from Yannick's swim," Jones said.. He deserves that. He is a great new talent. I think his swim in the 100 free shocked the world."
Jones said winning a medal for his country makes all the hard work and time spent in the pool worthwhile.
"It's hard to put into words the feeling you have watching your country's flag raising and being able to sing your national anthem," he said. "One word…amazing."