Cubs' wild win features a controversial review, an ejection, throwback jerseys ... and scissors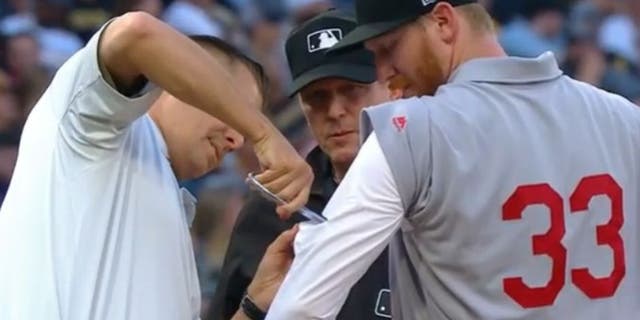 NEWYou can now listen to Fox News articles!
Last summer, left-hander Chris Sale was suspended for grabbing a pair of scissors and destroying the White Soxs throwback jerseys before a game. On Friday night, the umpires called for a pair of scissors to remove the sleeve of Cubs right-hander Eddie Butler on a throwback jersey night.
Yes, this actually happened on the mound during the game:
So why did the umpires call in an amateur tailor? Even though the throwback jerseys featured long-sleeve white shirts, pitchers arent allowed to wear white sleeves because it interferes with the batters ability to see the baseball.
And that was just part of the weird vibe during the Cubs 9-5 comeback win over the Pirates. Anthony Rizzos apparent leadoff homer in the first inning was ruled fouled after a confusing replay review, which resulted in manager Joe Maddons ejection.
Maddon had to watch from the clubhouse as Chicago rallied for six runs in the ninth inning, which included a two-run single from Rizzo.