Cubs' Rizzo hosting second annual comedy night to benefit cancer patients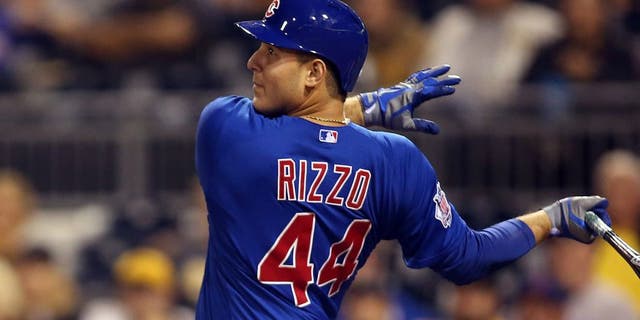 Chicago Cubs first baseman Anthony Rizzo has already had a sensational major-league career being named to two All-Star Game rosters and quickly rising as one of baseball's young stars.
One of his greatest accomplishments, however, wasn't done on the baseball field as he overcame Hodgkin's lymphoma when his career was just getting started in 2008.
"Besides physically not being able to play baseball, it was seeing the impact cancer had on my family," Rizzo told Michigan Avenue magazine. "It was an extremely difficult time: While I was undergoing treatment, my grandma was battling breast cancer. I knew I had to be strong for everyone."
Later in 2008, after undergoing chemotherapy for six months, doctors told Rizzo his lymphoma was in remission. While his battle with the cancer was over, he chose to use his success to help others by establishing the Anthony Rizzo Family Foundation in 2012, one year after his major-league debut with the San Diego Padres.
Even during the Cubs' 2015 playoff run, Rizzo made sure to visit children cancer patients in the hospital.
"It's important for me to make kids smile when I visit them; I feel like it gives them a chance to forget everything for a few minutes and allows them to just be kids again," Rizzo said. "These kids are the true heroes who are fighting every day. I like to tell them to stay strong and dream big."
One of Rizzo's efforts to help cancer patients has been his Laugh-Off For Cancer event. He is hosting the event for a second-straight year on Jan. 14 at Studio Paris in Chicago. Improv comedy actors highlight the night along with Rizzo and other Cubs teammates taking the stage with their own brand of comedy to help the cause.
"The improv portion with actors from The Second City," Rizzo said was his favorite portion of the event in 2015. "It was great to watch my teammates let loose a little and have fun onstage, and we raised $140,000 for families battling cancer."
With the Rizzo and the Cubs taking the stage for a talent other than baseball, it begs the question; who is the best comic of the bunch?
"We have a bunch of funny guys on the team, and it showed onstage," Rizzo said. "Ryan Dempster is always awesome to watch; I wasn't surprised that he had the crowd laughing."