Cubs not planning to shop Montero to free funds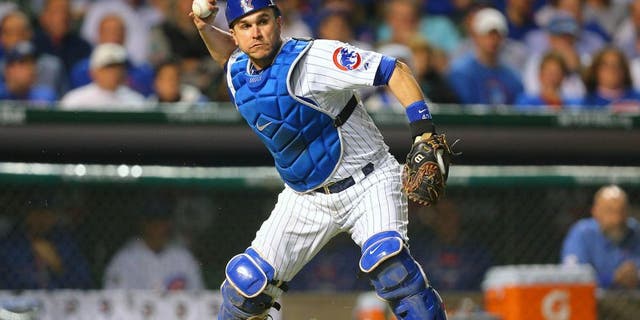 October 20, 2015; Chicago, IL, USA; Chicago Cubs relief catcher Miguel Montero (47) throws to first in the sixth inning against the New York Mets in game three of the NLCS at Wrigley Field. Mandatory Credit: Dennis Wierzbicki-USA TODAY Sports Dennis Wierzbicki
Chicago Cubs catcher Miguel Montero is owed $28 million over the next two seasons. The Cubs have been linked to several top pitching free agents during the general manager meetings in South Florida. Realistically, should the club sign one of the top pitching talents available, it will need to free up funds -- eaning Montero could be on the trading block.
While the move would make financial sense for the Cubbies, president of baseball operations Theo Epstein isn't entertaining the option of moving the 32-year-old catcher Montero.
"I wouldn't anticipate that," Epstein told CSN Chicago. "That's not something we've talked about at all. He was a big part of helping our run prevention last year (with) his framing behind the plate (and) his pitch-calling. We set an all-time National League record for strikeouts. We were third in ERA. He was a big part of that. It's not something that we're looking to disrupt at all."
After Montero, who hit 15 homers and 53 RBI in 2015, the Cubs have little options in-house at catcher. David Ross, 39, was Jon Lester's personal catcher in their first seasons with in Chicago -- however, looking at him to play everyday in the last season of his two-year, $2.25 million contract after hitting just .176 isn't ideal for the Cubs.
The Cubs do have a top catching prospect in Wilson Contreras, but he is expected to start the season at Triple-A Iowa as he needs more time to develop defensively after winning the Southern League batting title. With Chicago's plan to continuing building its young talent, while competing at the major league level, rushing the development of top prospect could be detrimental.
If Montero were to be moved, the only other option at catcher would be Kyle Schwarber, who appeared in 21 games at catcher in 2015. The Cubs would rather keep his bat in the majors, and work him the outfield, instead of sending him to the minors to work on his skills behind the plate.
"He's going to continue to grow at both positions," Epstein said. "He's excited to try to get better in the outfield and to continue his growth behind the plate. I think he's at an age (22) where that's still possible to develop in both areas. It's not necessarily ideal, but it's something that I think he's capable of doing."
MORE MLB: Want stories delivered to you? Sign up for our MLB newsletters.