Cubs host Padres for 3-game series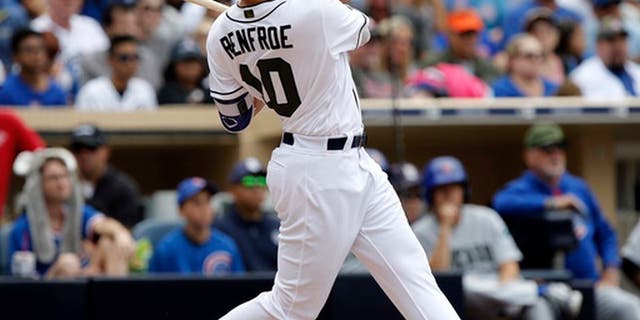 NEWYou can now listen to Fox News articles!
CHICAGO -- The inconsistent Chicago Cubs hope to build on some momentum from a successful weekend on the road.
The defending champions will get their first chance when they host the San Diego Padres in the opener of a three-game series Monday night at Wrigley Field.
Chicago (34-34) is at the .500 mark for the third time this month and Sunday's 7-1 win in Pittsburgh was only its fourth in 11 games since getting to 30-27 with a 10-2 victory over the Miami Marlins on June 6.
The Cubs are returning home after winning their first road series since the end of April. Chicago went 3-3 on the trip through New York and Pittsburgh and scored 30 runs in its three wins.
Fans will likely get a chance to see something they've only viewed from afar during the road trip -- first baseman Anthony Rizzo batting leadoff.
Rizzo was placed at the leadoff spot Tuesday in New York and homered to center field on the second pitch he saw. In five games as a leadoff hitter, Rizzo is 9-for-22 with three homers and eight RBIs.
"If we win ballgames, I'll be the leadoff hitter for the rest of my career," Rizzo said. "But no, the objective is the pitchers are going to throw strike one. They want to get into a groove. You've got to be ready to hit."
Rizzo also takes a 12-game hitting streak into Monday's game after going 3-for-5 Sunday. During the streak, Rizzo is batting .409 (18-for-45) during the streak, which equals a career high.
Chicago fans' exposure to Rizzo as the leadoff hitter will be brief as the Cubs head back on the road for 11 games after Wednesday. Rizzo was 0-for-10 when the Cubs scored five runs and were swept in a three-game series at San Diego from May 29-31.
The Padres have utilized the long ball of late, with eight home runs over two games and 18 in their last nine, including four from Yangervis Solarte.
"He went through a slow spell early part of May, late part of April, and it took a while to get his swing back," Padres manager Andy Green told reporters. "We bounced him to the two-hole, and he started to get base hits again. We always knew the power was going to come again, and it's coming now."
San Diego finally cooled off on Sunday with no homers in a 2-1 loss to Milwaukee at Miller Park. The Padres struck out 10 times and mustered six hits Sunday.
Chicago sends Jon Lester (4-4, 3.89 ERA) against Clayton Richard (5-7, 4.30 ERA) in a matchup of left-handed starters.
Lester makes his 15th start of the season and ninth at home. In his last start on Tuesday against the Mets he gave up just one run in seven innings while striking out a season high-tying 10 in a 14-3 Cubs victory.
Lester also had a single during a six-run second inning and recorded his 150th victory.
"I don't like to talk about personal stuff -- I always try to put it off until I'm done, see where I'm at, reflect," Lester said. "When it's all said and done, well go home and sit on the couch and reflect on the whole deal, see where we're at."
Lester is in a select group with Bartolo Colon, CC Sabathia, John Lackey, Justin Verlander, Zack Greinke, Felix Hernandez and Jered Weaver.
"Well that's pretty cool -- I could probably name most of those guys," Lester said. "That's really good company. But at the same time, we've got a long way to go."
Lester is 2-1 with a 2.96 ERA in four career starts against the Padres. He went 2-0 with a 3.00 ERA in two starts against San Diego in 2016.
Richard, who makes his 10th start of the season, spent portions of the 2015 and 2016 seasons with the Cubs, going 4-3 with three saves in 48 appearances, mostly in relief. He is 2-1 with a 2.53 ERA in three career starts against the Cubs.
Richard has won three of his last five starts, including an 8 2/3-inning effort in a 6-2 victory over the Cincinnati Reds on Tuesday. Richard allowed just two runs on eight hits, striking out six and walking just two.