Cubs down Dodgers to win first NL pennant in 71 years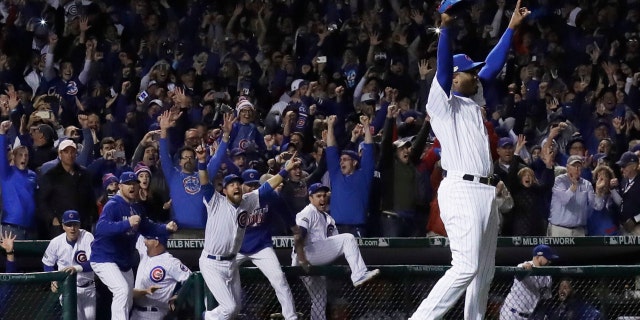 The Chicago Cubs took an early lead off Los Angeles Dodgers ace Clayton Kershaw, and Kyle Hendricks did most of the rest as the Cubs won their first National League pennant since 1945.
Hendricks allowed just two hits in seven-and-a-third innings, outpitching three-time Cy Young Award winner Kershaw as Chicago blanked Los Angeles, 5-0, in Game 6 of the National League Championship Series at a raucous Wrigley Field Saturday night.
Closer Aroldis Chapman recorded the final five outs, ending the game by inducing Yasiel Puig to ground into a 6-4-3 double play and setting off a wild celebration inside and outside the venerable ballpark.
"This city deserves it so much," said first baseman Anthony Rizzo, who caught the final out. "We got four more big ones to go, but we're going to enjoy this. We're going to the World Series. I can't even believe that."
All-everything second baseman Javier Baez and pitcher Jon Lester shared NLCS MVP honors. Baez hit .318, drove in five runs and made several sharp plays in the field. Lester, a two-time World Series champion in Boston, was 1-0 with a 1.38 ERA in two starts against the Dodgers.
The Cubs will try to win their first World Series title in 108 years when they face the Cleveland Indians in Game 1 of the best-of-seven at Progressive Field Tuesday night.
The Cubs shook off back-to-back shutout losses earlier in this series by pounding the Dodgers for 23 runs to win the final three games.
Kershaw, so dominant in Game 2 of the series, gave up five runs and seven hits before being lifted for a pinch hitter in the sixth. He fell to 4-7 lifetime in the postseason.
Pitching on five days' rest, the 2014 National League MVP threw 30 pitches in the first. Dexter Fowler led off with a double, and Kris Bryant's RBI single had the crowd shaking the 102-year-old ballpark.
They had more to cheer when left fielder Andrew Toles dropped Rizzo's fly ball, putting runners on second and third, and Ben Zobrist made it 2-0 on a sacrifice fly.
The Cubs added a run in the second when Addison Russell doubled to deep left and scored on a two-out single by Fowler.
Willson Contreras and Rizzo completed the scoring with solo home runs in the fourth and fifth innings, respectively.

That was plenty for Hendricks, the major league ERA leader who
left the game to a standing ovation after Josh Reddick singled with one out in the eighth. The only other hit Hendricks allowed was a single by Toles on the game's first pitch.
Manager Joe Maddon's team, deemed World Series favorites since spring training, topped the majors with 103 wins, then beat the Giants and Dodgers in the playoffs.

The Cubs took their 17th pennant. They had not earned a World Series trip since winning a doubleheader opener 4-3 at Pittsburgh on Sept. 29, 1945, to clinch the pennant on the next-to-last day of the season.

The eternal "wait till next year" is over. No more dwelling on a past history of failure -- the future is now.

"We're too young. We don't care about it," Bryant said. "We don't look into it. This is a new team. This is a completely different time of our lives. We're enjoying it and our work's just getting started."
The Associated Press contributed to this report.