Cubs avoid awful Phils series being season-ender by sweeping Giants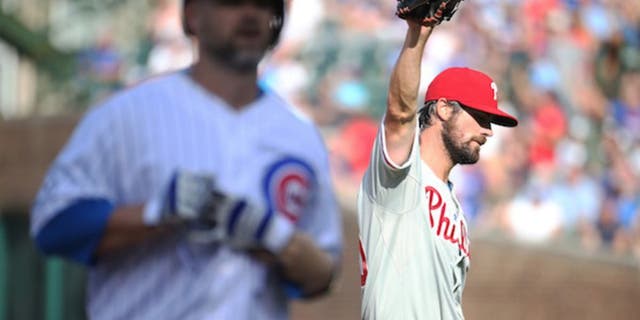 The obit to the 2015 Chicago Cubs season easily could have started with the weekend sweep at the hands of the lowly Philadelphia Phillies, capped by the club being no-hit for the first time in a half-century.
And no one could have blamed this young, feisty team if their season had come to a skidding halt that weekend at Wrigley. They had put up a good fight, but just didn't have enough. At least the future looked bright.
But that storyline has been cut, and a new one added over this past weekend at Wrigley as the Cubs powered by the Giants for a four-game sweep go from one-half game behind the defending champs to 3.5 games up for the second wild-card spot.
"It was nice how we responded after that Philadelphia series,'' Cubs manager Joe Maddon told reporters Sunday. "I wasn't as bummed out as a lot of people were because I thought they (the Phillies) played well when they beat us. I went through it in Tampa, too, when the New York Mets did it to us. It's part of baseball."
The Cubs, rather than get washed away by the sweep, have come out stronger for it. They've won 11 of 13 and are 8-1 in August with a day off Monday before opening a three-game series with the depleted Milwaukee Brewers.
Chicago's next 13 games are all against teams with losing records. The last time the Cubs met up with Milwaukee one week after the Phillies mess, Chicago swept the four-game series.
"We did good things in that Milwaukee series," Maddon said. "They were tight games. It pushed us forward."
Now the Cubs must avoid falling back again.
(h/t Chicago Sun-Times)