Cuban phenom Lazarito and family tell a far different story of dispute with agent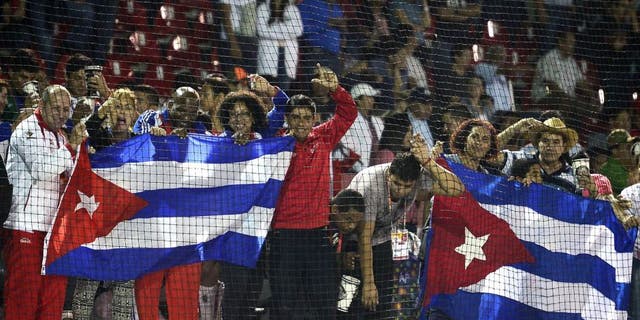 Lazaro "Lazarito" Armenteros and his parents told a visitor to take a photo.
A photo to prove that the 16-year-old Cuban phenom and his family were not in danger, to demonstrate that everything was fine.
On Tuesday, Lazarito's previous U.S. negotiating representative, Charles Hairston, told FOX Sports that the player's Dominican Republic-based investor had threatened Hairston's life and that the family was unable to leave the Dominican because the investor was withholding their travel documents.
On Wednesday, Lazarito, his parents and his new agents at Octagon gathered on a conference call with FOX Sports to give their side of the story. Lazaro and his parents, Lazaro Sr. and Joany, spoke from their home in the Dominican Republic. Miguel Martinez, director of baseball operations for the Dominican Prospect League, interpreted their comments.
Lazaro Sr. said that the family members are in "absolute control" of their travel documents and free to move about as they wish.
Lazarito, an infielder/outfielder, declined an invitation to visit the Braves in the U.S. not because of an inability to travel freely, but because the Braves invited only the player and not his parents, Lazaro Sr. said.
The Braves indeed structured the invitation that way, according to a major-league source, believing it was common for the agent to serve as a guardian for such a workout.
The two primary sticking points between the family and Hairston, according to Lazaro Sr. and the new agents, were an inability for Hairston's agency to produce actual offers from clubs and a refusal to allow Lazarito to resume working with his original trainer.
Ulises Cabrera, one of Lazarito's new agents, said that the player's focus needs to be on baseball. Hairston had said that he had sponsorship and endorsement deals lined up for Lazarito, even his own clothing line.
"Most people in the industry would say that Lazarito has not developed to the extent people expected him to when he was in Cuba. The adjustment is to be with people who will be trustworthy and get him back on track on the field," Cabrera said.
"Instead of focusing on building this guy's brand into Michael Jordan Inc. and talking about clothing lines and all that stuff ... this kid is a 16-year-old baseball player. Let's focus on baseball. Let's not focus on making this guy the next LeBron James."
Hairston, when contacted by FOX Sports, disputed much of what Lazarito's family and agents said, saying that the player's investor is essentially driving the process and influencing the family's comments and every decision.
The investor, Hairston and others in his agency believe, is working to steer Lazarito to a specific club.
Hairston declined to identify the Dominican investor, or "buscon," citing concerns for the safety of his co-workers. Buscones -- "finders" in the literal translation -- generally offer young Latin American players assistance with training, housing and clothing in exchange for 20 to 25 percent of the player's future salary, Hairston said.
"If we weren't threatened or fired, why on Earth would we step aside from the best prospect in the world? That just doesn't make any sense," Hairston said.
Hairston said Tuesday that his agency no longer would represent Lazarito, at least for the time being. Lazaro Sr. said the family decided to change agencies after reading Hairston's comments to Foxsports.com and MLB.com.
Octagon employs agents in the U.S., Venezuela, Japan and South Korea and maintains contacts in the Dominican Republic, Mexico and Puerto Rico, according to the company's website. Cabrera said that he and another Octagon agent, Brian Mejia, founded and operate the Dominican Prospect League.
The agent's international clients include the Mariners' Felix Hernandez, Blue Jays' Jose Bautista, Astros' Jose Altuve and Pirates' Jung Ho Kang.
"I left Cuba on a mission to accomplish my dreams," Lazarito said. "I want to be with my trainer, play consistently and focus on baseball as soon as possible."
Lazarito, because of his youth and inexperience, is subject to international spending limits; any team that signs him and already has exceeded its international budget would pay a 100 percent tax on the amount by which it surpassed its assigned bonus pool.
The Dodgers, sources say, are interested in Lazarito even though they are subject to such penalties, which include the inability to sign an international player for more than $300,000 in the next two signing periods.
The Braves and Padres, two other clubs pursuing Lazarito, are among the teams that would prefer not to incur such penalties until the next signing period, which begins on July 2.
The Red Sox, Yankees, Angels, Diamondbacks and Rays are effectively ineligible to sign Lazarito; they exceeded their 2014-15 bonus pools, forcing them to spend no more than $300,000 on a player for the next two classes of international free agents.
Lazaro Sr., who has a college degree in physical education, made a point of saying that the family wants not necessarily the highest offer, but the right situation for their son.
"We're a very humble family," Lazaro Sr. said. "We don't put money first. We just want the very best for our kid."