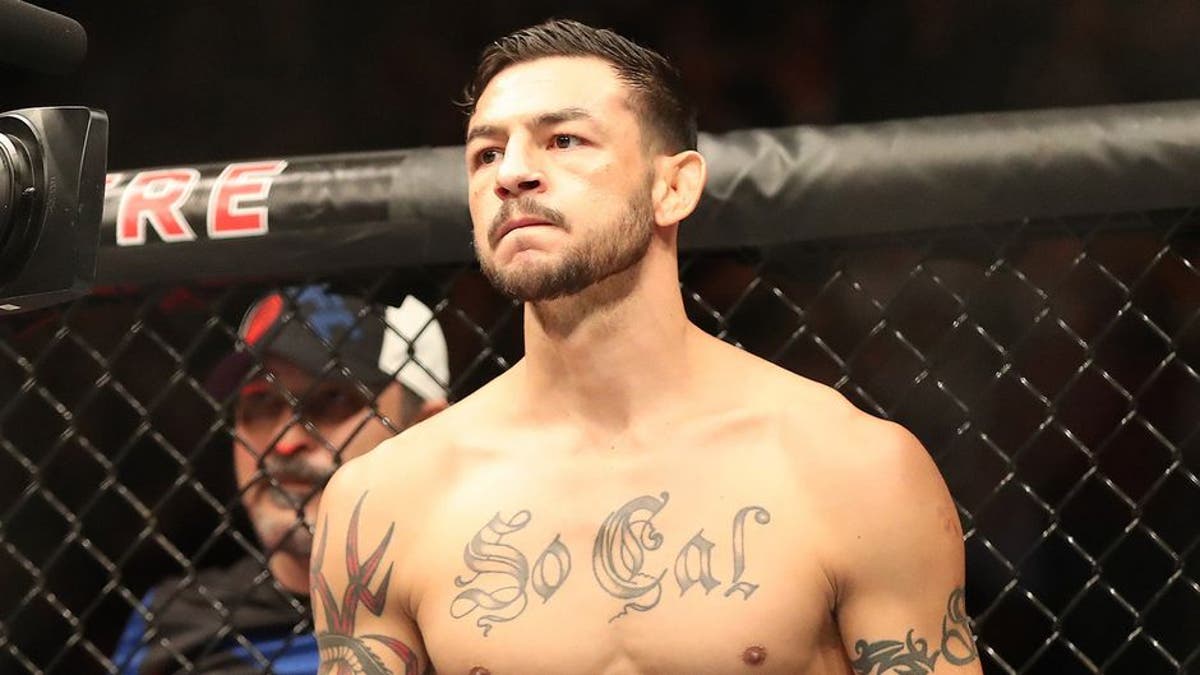 On paper, a matchup between No. 4 ranked Cub Swanson and 2-2 UFC featherweight Artem Lobov probably doesn't make a lot of sense.
Swanson is fresh off a 'Fight of the Year' against Doo Ho Choi in his last fight while winning a trio of consecutive bouts in the division. Meanwhile, Lobov was on his way out of the UFC following two straight losses, but was brought back as part of the growing grudge between his team led by Conor McGregor and Nate Diaz's crew in California.
Now Lobov has made the most of his return with two straight wins, but it's still curious matchmaking why he would get a main event fight against someone like Swanson, who appears to be only a couple of wins away from title contention.
"It's a fight. It's as simple as that. People keep complaining but I like to scrap. He likes to scrap. I like to stand and bang. Why not?" Swanson explained when speaking to FOX Sports from Nashville.
"When you're dealing with the whole rankings and knocking off this guy [to move ahead], it just takes away from it. The guy was talking crap. I don't particularly like him. Dana White himself called me and said 'do you want to fight him?' and I said is this the only fight available right now? He said 'yeah' and I said make it happen."
While Lobov may not have the ranking next to his name, he's done plenty of talking in the lead up to his fight with Swanson including an interview with FOX Sports where he predicted a vicious finish over the veteran featherweight contender.
"Ive broken many peoples faces before and I dont think this is something Cub has faced before," Lobov said. Even The Korean Superboy [Doo Ho Choi] managed to rock him. Imagine if I connect. Im being dead serious here I hope theyre able to wake him back up.
Zuffa LLC via Getty Images/Jeff Bottari/Zuffa LLC
Now Swanson admits when it comes to pre-fight chatter from his opponents, he tries not to pay too much attention to anything they say, especially when it's days away from the event.
This is one particular time where Swanson caught what Lobov had to say but he wasn't offended or angered by the comments. Instead, Swanson was a little confused considering Lobov only has four knockouts during his entire career not to mention his less than stellar performances thus far in the UFC.
"I honestly don't know. I was wondering that myself. I did read that just briefly. I try to post a lot of feel good stuff, just try to give people an insight of what I'm doing and I try not to read too much but I did catch that," Swanson said about Lobov's comments. "I remember thinking does he really believe these things?
"I mean if he does, good for him and that's just going to build his confidence. That's part of the reason I don't like him because he says things that aren't true and are just ridiculous. My personality doesn't mesh with people like that."
Ultimately it's Lobov's bluster that bothers Swanson more than anything because he feels it's just an attempt on his opponent's behalf to emulate his famous teammate Conor McGregor, who just happens to be the most outspoken fighter on the entire UFC roster.
Swanson has his own issues with McGregor, but he wishes the Irishman's teammates would have a little more originality rather than all being copycat versions of the original.
"I just think he's kind of fake," Swanson said about Lobov. "I know that he respects my game but I think that everybody out of that camp right now is trying to play a certain role. I think it's dumb. You should be who you are and not be somebody you're not. I can get you're trying to be a character but just be an extreme version of yourself. Not trying to just be that bad guy to make money, this and that, that doesn't sit well with me.
"I think money isn't everything. My goal in this sport is to be the best version of myself that I can be. So for me to go out there and put on a beautiful performance, that means everything to me and he gets to be my punching bag."
Zuffa LLC via Getty Images/Jeff Bottari/Zuffa LLC
If the trash talk and the disdain shared between the two fighters isn't enough to watch, Swanson says there are plenty of other reasons to enjoy this matchup with Lobov.
Ultimately, Swanson believes there are three possible outcomes for this fight and all of them will make for a good story to talk about on Sunday morning.
"You're going to get one of three things," Swanson explained. "You're going to get one of the best performances of me yet and just royally whoop his ass, which everybody wants to see because he is a talker. Two, you see a huge upset and a new star is born.
"Or a third scenario, we both show up and beat the hell out of each other and it's an amazing fight."
Swanson faces Lobov in the main event at FOX UFC Fight Night this Saturday night from Nashville with the main card kicking off on FS1 at 10 p.m. ET.