Crosby joins Penguins for morning skate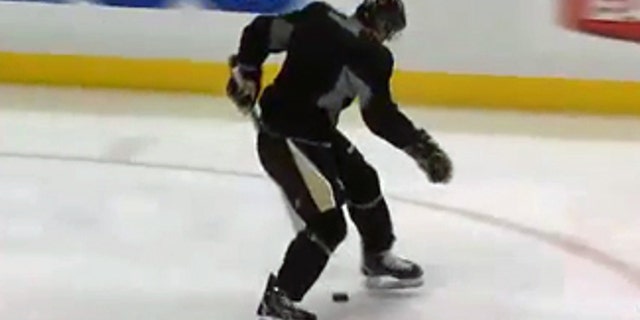 After nearly three months of waiting, Sidney Crosby was back on the ice with his teammates Thursday morning.
The Pittsburgh Penguins captain joined the club for their morning skate at St. Pete Times Forum. Sam Kasan of the team's Web site reports Crosby skated with Arron Asham and Eric Godard -- the two forwards not expected to play against the Tampa Bay Lightning -- during line rushes.
Pittsburgh faces Tampa Bay on Thursday night for the first time since Crosby's last game, an 8-1 win against the Lightning on Jan. 5. It is a likely preview of a first-round playoff series between the teams as Pittsburgh currently is fourth in the Eastern Conference and Tampa Bay is fifth.
Crosby was cleared Wednesday by doctors to join his teammates for morning skates. However, GM Ray Shero said there is still no expectation for Crosby to return during the regular season. For now, Crosby will participate in the Penguins' morning skates but not in full practices.
"I have no expectations of him coming back in the regular season," Shero said. "I don't believe that's going to happen."
Shero didn't sound optimistic about the playoffs, either.
"In terms of playing in the playoffs, that's still two or three weeks away," he said. "I don't want to take away any hope from the players, but to return to game action for the Stanley Cup Playoffs takes a certain level of fitness and game-ready, and he is certainly not close to that at this point."
There is still no timetable for his return, coach Dan Bylsma said.
"I think the biggest thing is for Sidney. I think this has been a long process, and it's a daily process and it's a gradual process, so to have some progression where you are getting better and you know that -- that's a good thing," Bylsma said. "He's still cautiously optimistic about the future, but really, there's no timetable going forward. This is just one more step. There's probably another three steps after this that have to (happen) and there's no timetable for any of those."
Crosby has not received clearance to play, but it's a sign his concussion symptoms are improving. The Penguins will visit the Tampa Bay Lightning on Thursday and the Panthers on Saturday.
Bylsma and Shero are just happy to get Crosby back with the team.
"Ray and I have not had discussions about the start of playoffs, first round, second round," Bylsma said. "We're just happy to see him get on the ice with a few teammates now. He's going to progress for the morning skate and we have no anticipation for when the next step is and where that might be down the road, if at all this year."
While Bylsma and Shero are trying to temper their enthusiasm about Crosby, teammates are excited about his progression.
"It's pretty cool," goaltender Marc-Andre Fleury said. "It seems like he's been having fun, smiling. Hopefully he just keeps getting better and he joins the team whenever he's healthy."
"For anybody on the team, I think it would be exciting to see him back," forward Alex Kovalev said. "That's a big boost for everybody."
Crosby hasn't played since Jan. 5 due to a concussion, but has been working out on his own, and has been skating since March 14. He's been increasing his workouts to the point where he was able to stay on the ice for 45 minutes Sunday.
The Penguins are 19-12-5 since losing Crosby and have found a way to stay within striking distance of the top spot in the Eastern Conference without both Crosby and Evgeni Malkin, who is out for the season with a knee injury. The Penguins are just four points behind the East-leading Philadelphia Flyers.
Despite missing nearly half the season, Crosby is tied for 20th in the NHL in scoring with 66 points in 41 games.
During his solo practices, Crosby has been putting on a show, be it with stickhandling or water-bottle popping backhanders.