Crosby back on ice for first time since concussion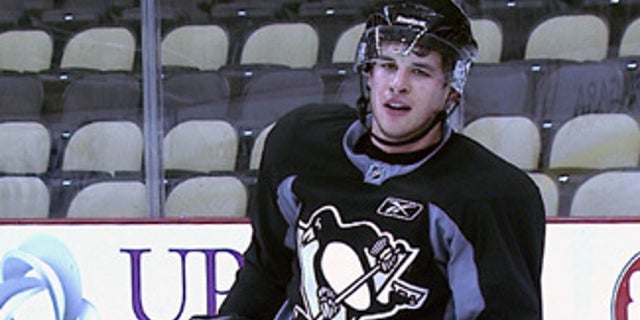 Pittsburgh Penguins captain Sidney Crosby said Monday that he's feeling better, but is far from ready to return from the concussion that has sidelined him for more than two months.
Crosby was on the ice in full gear for about 15 minutes prior to the Penguins' practice at Consol Energy Center. He stickhandled around some cones and shot a few pucks during his first time on the ice since Jan. 5.
"I feel good. It's really early. It's just part of progress and trying to get better," Crosby told the team's website. "I felt pretty good doing some light workouts. I was told I had the opportunity to skate. I went out there for 15 minutes to see how I felt. No real plan going forward. I felt good, so that's a good sign."
"I know he's feeling a lot better," said Penguins General Manager Ray Shero during an appearance on the NHL Network. Shero is in Florida for the NHL GM's meetings. "That was the main thing for us, for him to feel better every day and be symptom-free and that's a good first step for him, to get back out there a little bit and get a feel for it. The bottom line is he's feeling better."
Crosby said he's been riding an exercise bike the last few days and had not suffered any concussion-related symptoms during that span, so doctors gave him clearance to skate for the first time Monday. However, Crosby maintained his health remains a day-to-day issue.
"I may not feel great this afternoon and not be able to skate (Tuesday)," Crosby said. "The only reason I was able to skate today is because I've had some good days here, done a little bit of exercise and got through that. That doesn't mean there are any guarantees. It's just a progression.
"I've been symptom-free the last few days. That doesn't mean that when I exert myself that I won't have symptoms. That could always happen. That's pretty normal when you have that. It's a process and we'll see how things go."
The process hasn't been an easy one for Crosby.
"It's frustrating, but at the same time when you go through all those things, I think the most important thing is that you just feel normal and you're able to do things and work out -- just do things that every day you're usually able to do as a hockey player," he said. "I realize that it's a process, but it's a step in the right direction. It doesn't mean that today I won't have symptoms, and I'll have to kind of step back a bit. That could happen too, so I think I'm pretty realistic about everything."
He also wants to blunt any questions about when he might return to the lineup.
"Today is progress, but I'm nowhere close to where I need to be as far as being in shape," he said. "I'm not even going to talk about that. I just want to be able to get through that without getting a headache, let alone worrying about where my conditioning is at. That's a whole new level."
Crosby last played Jan. 5 against the Tampa Bay Lightning, and was injured when he was hit hard into the boards by Lightning defenseman Victor Hedman. He also had taken a hard hit on Jan. 1 from then-Capitals forward David Steckel during the 2011 Bridgestone NHL Winter Classic.
At the time he got hurt, Crosby led the League in goals and points. Despite missing the last 29 games, Crosby's 32 goals are tied for sixth in the League, and his 66 points are 11th.
Crosby said what's impressed him the most is how his teammates have handled his prolonged absence. The Penguins have gone 14-10-5 without Crosby, a time period that also includes the season-ending knee injury suffered by fellow All-Star Evgeni Malkin, and have remained close to Eastern Conference-leading Philadelphia. The Penguins enter the week fourth in the East, just three points behind the Flyers.
"I've been here every day, and I've been around the guys," he said. "It's been pretty amazing to see the amount of character we have. I think with all the adversity we've had, the guys have really done an unbelievable job of just focusing on what they have to do out there. They've been resilient, and that's something that says a lot about our team. I don't think I was surprised, but it's pretty unique to see a group of guys and what they've been through have the success that they're having. I'm happy to see that, and for me just to be able to come here every day has been good, just to be around the guys."
Even though a return to the lineup remains some time away, Crosby felt good about putting on his skates.
"Just being on the ice is nice after not doing anything really the last few months," he said. "It's still in the early stages of things. It doesn't mean I'll be able to skate tomorrow. We'll see how everything goes. It's one of those things that you go through each day, adjust and see how you feel depending on symptoms and things like that. We'll see. It's just nice to be able to get out there."
Contact Adam Kimelman at akimelman@nhl.com. Follow him on Twitter: @NHLAdamK