Croatia fined $101G for racist abuse at Euro 2012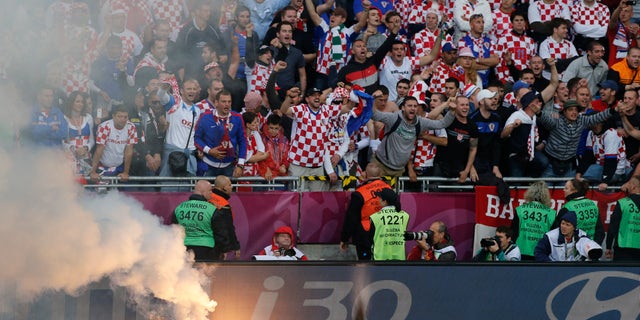 UEFA has fined Croatia's football association $101,000 after fans racially abused Italy forward Mario Balotelli at a European Championship match.
The charges related to "the setting-off and throwing of fireworks, and the improper conduct of supporters (racist chants, racist symbols)," UEFA said in a statement.
The fine is $25,000 less than the UEFA disciplinary panel ordered Denmark forward Nicklas Bendtner to pay one day earlier for revealing a sponsor's name on his underpants.
UEFA received reports from stadium monitors that 300 Croatia fans made monkey noises at Balotelli, who is black, during a 1-1 draw in Poznan last Thursday.
Croatia's case was the first formal racism charge prosecuted by UEFA at Euro 2012 after lacking evidence in previous reported incidents.
Croatia was eliminated from the tournament Monday, with Spain and Italy advancing to the quarterfinals from its group.
Earlier Monday, UEFA President Michel Platini said he was "not happy with the Croatian people." Platini described the atmosphere at Euro 2012 stadiums as "99 percent great. The people who come to the stadiums, they were nice, except some Croatians."
The Croatia association was also fined $31,500 last week for its fans' behavior at an earlier match against Ireland. UEFA said that sanction was imposed for "the setting off and throwing of fireworks and missiles, and a pitch invasion by a supporter."
Croatia games against Ireland and Italy were both delayed to clear fireworks and smoke from the pitch after Croatia scored.
Bendtner was fined $126,000 for his ambush marketing stunt to promote a gambling firm. The sum is the maximum an individual can pay under UEFA disciplinary rules.
National associations can be fined up to $1.26 million by UEFA.
UEFA rules make national bodies responsible for their fans' behavior. Punishments range from warnings and a sliding scale of fines to points deductions and even expulsion from competitions.