Cristiano Ronaldo wins Ballon d'Or; James Rodríguez World Cup strike named top goal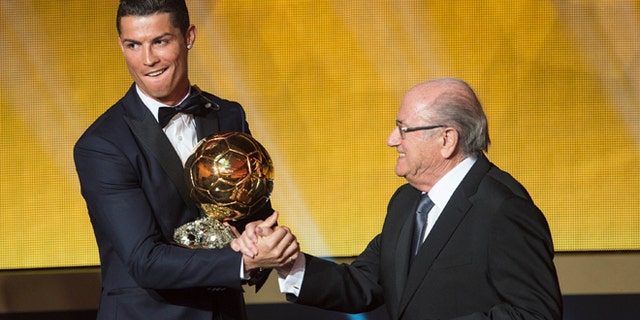 ZURICH (AP) – Cristiano Ronaldo won the FIFA Player of the Year award for the second straight year on Monday and for the third time overall.
The Portuguese forward, who led Real Madrid to its record 10th European title, received 37.66 percent of votes of national team coaches and captains to add to the FIFA awards he won in 2008 and 2013.
Ronaldo scored 61 goals last year for club and country, and set a Champions League season record with 17.
"I want to become one of the greatest players of all time," he said through a translator in his acceptance speech. "Of course, this requires a lot of effort and I hope to get there."
Lionel Messi, the Argentinian star forward on Barcelona, was second in voting with 15.76 percent, just ahead of goalkeeper Manuel Neuer (15.72), who helped Germany to the World Cup title.
Colombia's James Rodríguez won the Puskas award for best goal of the year for his score in a World Cup Round of 16 match against Uruguay.
The award is voted on by fans and the result was probably not terribly surprising as Rodríguez's strike had already been named best goal of the 2014 World Cup by FIFA.com users.
On hearing his name read out by French great Thierry Henry, the 29-year-old Ronaldo closed his eyes, dipped his head and smiled before walking to the stage.
"It has been an unforgettable year," Ronaldo said after taking a deep breath.
Messi won the award four straight times from 2009-12. While Messi's Argentina lost in the World Cup final, Ronaldo's Portugal was eliminated in the first round.
U.S. captain Clint Dempsey voted Ronaldo first, followed by Messi and German midfielder Thomas Mueller. American coach Jürgen Klinsmann — a former star and coach for Germany — had Neuer first, followed by Messi and Dutch forward Arjen Robben. Paul Kennedy of Soccer America, the U.S. media representative, voted Ronaldo first, followed by Messi and German defender-midfielder Philipp Lahm.
The FIFA men's award merged in 2010 with France Football's Golden Ball, given to the European player of the year.
German midfielder Nadine Kessler won the Women's Player of the Year for the first time, getting 17.52 percent to beat out Brazilian forward Marta (14.16) and American forward Abby Wambach (13.33). Marta was a five-time winner from 2006-10 and Wambach won in 2012.
U.S. coach Jill Ellis voted Kessler first and Wambach second, while American captain Christine Rampone had Wambach first and didn't include Kessler among her top three. The U.S. did not have a media vote.
Joaquim Loew was voted men's Coach of the Year after leading Germany to the World Cup title, and Wolfsburg's Ralf Kellermann was picked as women's Coach of the Year.
"It's the icing on the cake," Loew said through a translator. "What would a coach be without a fantastic team? I am nothing without well-trained players."
Loew received 36.23 percent of votes, including the top picks of Klinsmann and Dempsey, followed by Real Madrid's Carlo Ancelotti (22.06) and Atletico Madrid's Diego Simeone (19.02).
Kellermann got 17.06 percent, topping Germany under-20 coach Maren Meinert (13.16), Japan's Norio Sasaki (13.06) and Sweden's Pia Sundhage (11.22), a former U.S. coach.
On the FIFPro-FIFA world all-star team, Ronaldo, Messi, Neuer, Lahm and Robben were joined by defenders David Luiz, Thiago Silva and Sergio Ramos, and midfielders Angel Di Maria, Andres Iniesta and Toni Kroos.
Luiz, Kroos, Di Maria and Robben were picked for the first time in voting by 23,383 players in 58 nations.