Cristiano Ronaldo ties record for all-time Euro goals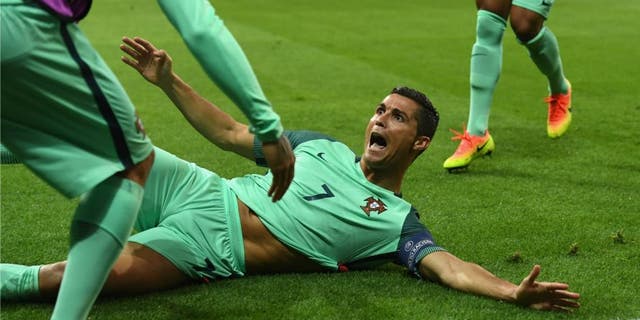 NEWYou can now listen to Fox News articles!
Nobody in the history of the UEFA European Championships has scored more goals than Cristiano Ronaldo. The superstar found the back of the net for the opener in Portugal's semifinal against Wales, giving him nine career Euro goals and tying Michel Platini for the all-time record.
Ronaldo's tally was a straight-forward header. He got a full head of steam, lept higher than anyone else in the box and hit a laser of a header.
Ronaldo's first ever international goal came at the Euros, when he scored in the opening match of Euro 2004 as a 19-year-old. He added one more goal in that tournament, tallying in the semifinals against the Netherlands. He scored just one goal at Euro 2008, but got three more in 2012. First he got both goals in Portugal's 2-1 win vs. the Netherlands, then scored one more against the Czech Republic.
Coming into this year's European Championships, Ronaldo had six goals, three back of Platini's mark. And when he didn't score in either of Portugal's opening two matches, it looked like he would struggle to reach the legendary Frecnhman. But then he notched a brace in the group stage finale against Hungary, single-handedly putting Portugal into the knockout stages, and now he's scored in the semifinals as Portugal chase a spot in the final.
This has been a tournament full of Euro records for Ronaldo. He became the first player to ever score in four separate Euros and also the first player to play in three Euro semifinals. Now he's also tied Platini as the greatest goalscorer the competition has ever seen.
MORE FROM FOX SOCCER