Cristiano Ronaldo Hugs Fan Who Ran On The Field After Helping Lift Real Madrid To Victory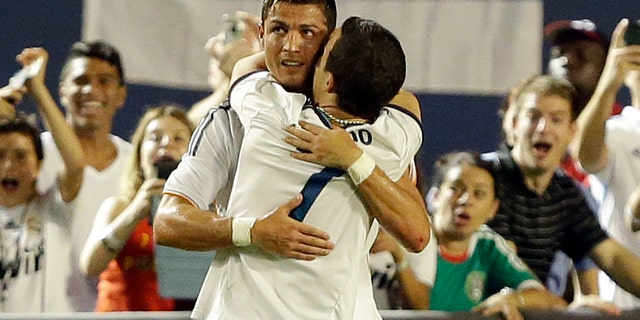 Cristiano Ronaldo delighted Real Madrid fans with a dazzling display of his skills that helped his team take home the Guinness International Champions Cup.
Ronaldo scored a pair of highlight goals, lifting Real Madrid to a 3-1 victory over Chelsea in the final on Wednesday night.
"We played beautiful football," Ronaldo said.
But for one fan in particular, Ronaldo made his dreams come true.
It was in the 57th minute, after Ronaldo had struck again, that the crowd went into a frenzy, including one fan who got onto the field later in the game. Wearing a Ronaldo jersey, he was able to not just get to the Real Madrid star, but wrap him in an embrace near the sideline and share some words for several seconds before police officers escorted the man off the field.
Marcelo Vieira also scored for Real, which became the event's inaugural champion by topping a Chelsea club now being coached by Jose Mourinho. He left Madrid earlier this year for a return to Chelsea, and after years of enjoying watching Ronaldo frustrate opponents, it was Mourinho who couldn't find a way to stop him.
"He's a great player," Mourinho said. "If he scores goals, that is not news. If he doesn't score goals, that would be news."
Ramires scored for Chelsea, which posted a pair of shutouts to get into the championship match before 67,273 fans at Sun Life Stadium, home of the NFL's Miami Dolphins.
The colorful Mourinho took what were considered a few subtle jabs at Real Madrid leading up to the Guinness final, though Ronaldo took the high ground when asked about his former coach before the match.
After the final whistle Wednesday, though, Ronaldo clearly was enjoying the moment — but insisted that his two after-goal celebrations were not in any way directed toward Mourinho.
"I don't worry about the other people," Ronaldo said.
This match, the finale of an eight-team tournament, was supposed to be merely an exhibition between two strong teams, part of their preseason preparations.
The way they played certainly didn't suggest that either side found this one to be meaningless.
"I would expect those two teams to play it seriously," said Los Angeles Galaxy forward Landon Donovan, whose team fell to AC Milan earlier Wednesday in the third-place match of the eight-team event.
From the moment the bracket came out this spring, many expected that it would be a Real-Chelsea final and serve as a reunion for Mourinho — who raised eyebrows by calling the Brazilian player Ronaldo, who is retired, "the real Ronaldo," a phrase that served as the perceived shot at the Real star — and his former club.
"It's not my movie. ... It's not my problem," Mourinho said.
Based on reporting by The Associated Press.
Follow us on twitter.com/foxnewslatino
Like us at facebook.com/foxnewslatino