Cristiano Ronaldo accused of tax fraud by Spanish state prosecutor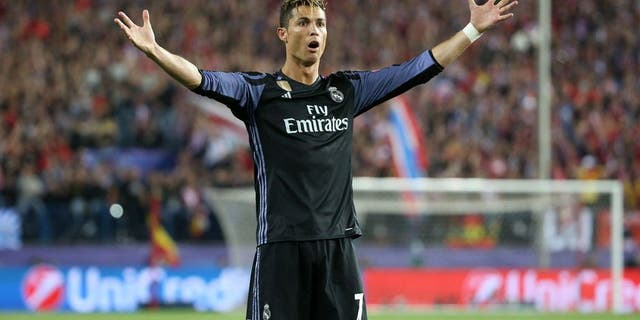 NEWYou can now listen to Fox News articles!
Cristiano Ronaldo has more than 14 million in unpaid taxes, according to a Spanish state prosecutor. A statement released by the prosecutor accused the Real Madrid star of four counts of tax fraud from 2011 to 2014.
The prosecutor claims that Ronaldo used a shell company in the Virgin Islands to hidesome of his income from the tax officials.
Ronaldo "took advantage of a business structure created in 2010 to hide from fiscal authorities income generated in Spain from image rights," the statement read.
There had been reports that tax officials were looking into Ronaldo for months. However, his agency claimed that he was up to date after adjusting his declarations and paying an additional 6 million in 2014. When asked about the reports last month, Ronaldo dismissed them and said he had nothing to fear.
Accusations of tax fraud have dogged many of Spain's top players, including Lionel Messi. The Barcelona star was found guilty of tax evasion last summer and sentenced to 21 months in prison, but he did not have to serve the sentence because the term was less than two years and he was a first-time offender.