Crisp's 3 hits, 3 runs lead A's over Mariners 5-2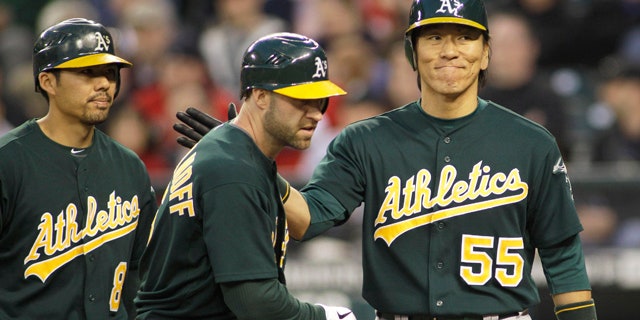 NEWYou can now listen to Fox News articles!
SEATTLE – When Coco Crisp is getting on base, the Oakland Athletics' struggling offense hums.
The Oakland speedster had three hits, scored three runs and stole a base in sparking the offense. Josh Willingham added three RBIs in the late innings and the A's earned a series split with a 5-2 win over the Seattle Mariners on Sunday.
Crisp has six hits in his last two games, breaking a skid that saw him bat just .175 over the pervious 15 games. After being shut out by Seattle on consecutive nights, the offense broke through for 14 runs and 22 hits over the weekend.
"When he gets rolling, our offense takes off. There's no doubt," A's manager Bob Geren said.
With the game tied at 1 in the seventh, Crisp reached on a fielder's choice against reliever Aaron Laffey (0-1) and moved to third on a single by pinch-hitter Conor Jackson. Willingham followed with a double down the left-field line that Milton Bradley misplayed in the corner and allowed Jackson to score from first to give Oakland a 3-1 lead.
Seattle got a run back in the bottom half as Michael Saunders led off with an infield single. Jack Wilson reached on a throwing error by Kevin Kouzmanoff and the runners advanced as the ball caromed into the stands. Ryan Langerhans picked up an RBI on a groundout to first that allowed Saunders to score, but Wilson was left stranded at third as Ichiro Suzuki flew out to center and Chone Figgins struck out looking.
The Mariners threatened again in the eighth inning, but pinch-hitter Luis Rodriguez struck out to strand the tying run at third.
"We've got to break through this," Seattle manger Eric Wedge said. "We had opportunities on and off throughout the course of the ballgame. These guys are going to have to figure out a way to fight through whatever they are going through mentally, fundamentally for that matter, and finish off innings. That's the difference in the ballgame."
Oakland tacked on a couple of insurance runs in the ninth inning to seal the win.
Brett Anderson (2-1) allowed two runs, one earned, and struck out six over seven innings of work to earn the victory. Brian Fuentes came on in the eighth inning and struck out three of his four batters in picking up the four-out save. It was his sixth save in seven chances.
"It was quite an effort late for him," manager Bob Geren said. "He pitched well the whole game but he showed me something in the seventh right there to get through that inning. He got some big outs for us there at the end."
"He used two different speeds on his breaking ball very effectively. He threw the ball well."
Hideki Matsui came up with a two out single to right field that scored Crisp from second to give Oakland the 1-0 lead.
Suzuki led off with a bunt single of his own in the bottom half of the first and, despite appearing to be picked off by Anderson, was able to get into second base safely when Daric Barton's throw hit him in the backside.
A grounder to second by Bradley brought Suzuki home and tied it at 1.
Mariners starter Doug Fister worked out of a jam in the fifth after giving up a leadoff triple to Crisp. Adam Kennedy snared a one-hopper from Barton at first and kept Crisp from advancing home. Fister then forced David DeJesus to pop up to third base and Willingham flew out to end the threat.
Crisp then flashed his glove. In the sixth inning, Miguel Olivo led off with a drive to center that Crisp tracked down and caught running full speed before slamming into the wall with his left shoulder. Crisp seemed to favor it briefly before shaking it off and staying in.
"I know he's going to be sore. He's going to feel that wall," Geren said. "He stayed in the game and kept playing, just both sides of the ball, on the bases, he did everything. He's an exciting player to manage, to watch. ... Big spark. When he has a day like that, it can really carry the team."
Notes: Fister allowed just four hits and one run over six innings for Seattle. ... After the game, Seattle optioned OF Carlos Peguero and RHP Josh Lueke to Triple-A Tacoma. The team activated 1B Justin Smoak off the bereavement list and recalled RHP Dan Cortes. Both Smoak and Cortes will be with the team Tuesday in Detroit. ... Crisp recorded his third triple of the season, tied for most in the majors with Tampa Bay's Sean Rodriguez. All three of Crisp's 3-hit games this year have come against Seattle. ... Suzuki was the team's designated hitter for the first time this season, getting the day off in the field.