Cris 'Cyborg' Justino doubts fight against Ronda Rousey is going to happen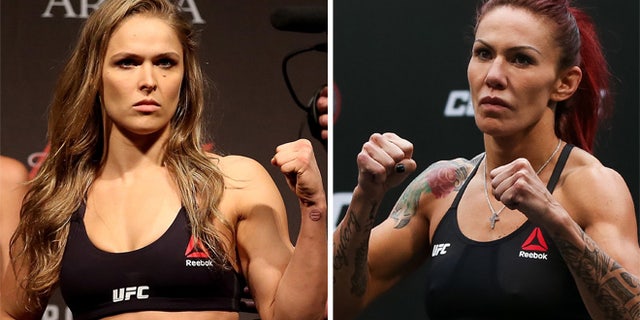 If Ronda Rousey beats Amanda Nunes to regain her UFC bantamweight belt, she will open the door for a super-fight match-up between her and Cris "Cyborg" Justino.
But Justino is saying it isn't likely — despite UFC president Dana White's assertions.
Talking to mixedmartialarts.com, she said White cannot force Rousey to fight and that UFC doesn't truly want it to actually happen.
"Everyone wants the biggest women's fight in the Octagon ever to happen, but Dana cannot do this because, not because he doesn't want (it), but probably because he cannot force Ronda Rousey to fight, the same way he cannot force Conor McGregor to fight Jose Aldo again," Justino said. "He cannot force Ronda to fight Holly Holm again. I don't believe it anymore."
She continued: "I already did five fights under contract with the UFC, and I did two fights at 140 (pounds) to open the door for this, for the opportunity for (this fight with Rousey) to happen. But it won't happen. I don't believe it anymore. You want the guy who never wanted women to fight in the cage to promote the biggest event ever between two women?"
Justino, whose last two fights have been in the UFC at a 140-pound catchweight, said UFC keeps saying the fight is going to happen, but in reality they are not showing it with their actions.
"I've had five fights for them and the UFC has not promoted me, they have not done one interview for me, all interviews I've done by myself. I emailed them, asked for the opportunity, and then they laughed at me," she added. "I had the hardest cut ever for 140 last time. I'm not going to make 140 again for (expletive) fights."
Rousey, who is of Venezuelan descent, is set to fight Nunes at UFC 207 on Dec. 30 in Las Vegas. It will mark her return to the octagon since she was stunned by Holly Holm with a second-round knockout at UFC 193 in Melbourne, Australia.
Like us on Facebook
Follow us on Twitter & Instagram