Cris 'Cyborg' Justino: Behind the scenes with the the world's most dominant female fighter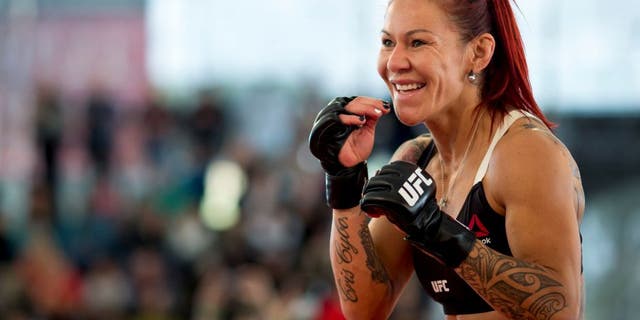 Some of the athletes who compete in the ring or cage seem like natural-born fighters. Picture a prime Mike Tyson turning snarling at opponents as he separated them from their senses in seconds with whipping shots, or Robbie Lawler smiling through a bloody mouth after getting hit and before delivering more punishment of his own.
Women's world featherweight MMA champion Cris "Cyborg" Justino fits the bill as a human made for combat. For nearly seven years, she's reigned atop the 145-pound weight class, and is the most dominant female fighter in the world.
The Brazilian, who makes her UFC debut Saturday in her home town of Curitiba against Leslie Smith, has always fought with an unmatched aggressiveness and potency. With her physicality and skill, she's long been one of the most intimidating figures in sport.
In all, 13 of her 15 career wins have come by way of KO or TKO. Nine of those have come in the first round, three inside of a single minute.
Still, if Justino was always meant for fighting, it took her time to realize it.
"I never wanted to be a fighter. I started when I was 12 years old, with handball," Justino tells me while sitting on the apron of the boxing ring of RVCA's private gym in Costa Mesa, Ca, after training with coach Jason Parillo in late April.
Justino didn't begin her martial arts training until she was an adult --€" a rarity among fight sport champions --€" and then it was at someone else's prodding. "When I went to university, I was 19 years old, this one black belt from [vaunted Curitiba, Brazil fight team] Chute Boxe saw me play a game and he asked me if I liked to fight Muay Thai or anything. He said, 'you can be a great fighter,' and he gave me his business card," she recalls.
"I said, 'no, I don't like fighting.' But, he always saw me in school and he kept telling me about training."
The Chute Boxe team member continued to pester and encourage Cris. Eventually, she relented and agreed to visit the gym. For whatever reason, boxing seemed a bit more accessible to Justino than the Muay Thai style of eight weapons, at first.
"He told me about training Muay Thai at Chute Boxe but I said, 'no, I don't like it,'" she chuckles.
"So he said, 'you can box. Do you like boxing?' So, when I started at Chute Boxe, I also started boxing with the same coach as this guy, when I started Muay Thai."
Though fighting didn't sound like fun, she was an athlete and was up for trying a new workout. It wasn't until she actually felt what it felt like to fight that Justino began to like the idea of it.
"The first time, I was late to the gym, so I just sat down and watched Muay Thai practice. After that, I came back to actually train and I really liked it," she says.
"I had good cardio and good strength, but no technique. Everything was new for me. But, I went every day."
Three months later, Cris took her first fight. The handball player had unknowingly stumbled into one of the most notoriously hard-training fight teams in MMA history.
It may have surprised her at the time, but Justino took to the rough work and learned that she is a fighter. Long before she developed any real skill, Justino realized that she had a fighter's internal fortitude.
"I started training and all the times when the guys beat me, I didn't know very much, but I tried to punch them back," she explained.
"You know you're a little bit of a fighter when somebody punches you, hard. Either you punch back or you'll be dead. That's when you see the heart.
"You cannot teach an athlete heart, the wanting to hit back. You can learn techniques, but a fighter cannot learn heart.
"I started doing tough training with the guys and I never quit. I kept going and going.
"When I did my first fight I said, 'nice, they don't have red cards' (laughs). In handball if you pull, push or elbow, you get a red card. I really liked it."
Justino's mother didn't like her daughter's new hobby. She didn't like it when Justino dropped out of school to fight full-time after she married one of her Chute Boxe teammates, Evangelista "Cyborg" Santos.
The idea of being a professional mixed martial arts fighter was barely a realized one for many men, much less for female athletes. "My mom was not happy about it. She said, 'don't be a fighter, it's no good for you,'" she says.
"Because, before, nobody had an idea that you could do it for a living. Now, it's professional, but before your mom doesn't want you to go train with guys."
Cris had to train with guys, though, because there weren't many women in the gym. As much progress as has been made with regard to female fighters, thanks in large part to pioneers like Justino, Gina Carano and Julie Kedzie, the first women to fight on national television, there still aren't enough professional options for female fighters. It is an issue that Justino touches on easily and often.
Fighting is an individual sport based on the work put into athletes by expansive teams of coaches and training partners. Similarly, the individual battles fought by athletes can inspire as it thrills, when it represents eternal struggles like self-mastery or battling for equality.
Justino sees herself as an advocate for female fighters, everywhere, and that frames the way she looks at many of her career decisions.
"In the beginning of my career I trained with just guys. Chute Boxe was very famous in Japan but Japan didn't use to give too much support for women's MMA," she continues, before transitioning to the persistent hurdle female fighters often face --€" a particularly tough time getting enough fights booked.
"In the first three years of my career I did maybe two fights. I had no fights, just training, training, training, hoping I'd get a fight. I always had a dream to be the best in the world, so I trained a lot. I trained every day. My ex told me, 'just keep training. When your opportunity comes, you'll be ready.' I kept training and the opportunity came."
As she trains for her UFC debut, Justino is working on plans to create more opportunities for other female fighters. She's partnering with promoters to put on a California amateur state MMA championships exclusively for female fighters, July 2, which she hopes will give young fighters opportunities she didn't have, coming up.
Justino says that what most surprises her after a decade in the sport of MMA are the increased platforms for female fighters.
"When I started I had a dream that there could be a whole event just for girls," she said. "Before, there weren't many girls fighting. Nobody gave the girls a chance. This space for girls to compete is new. When you have space, you can show what you are capable of. When you don't have that space, that stage, you cannot show, you know? You've got to have some place where you can fight and show what you can do."
Climbing the ranks and earning her stripes
All those years ago, Justino herself faced a landscape with no foreseeable career options, yet still decided to fight. In that fight she injured herself but that only redoubled her resolve.
"I did my first fight and I injured my elbow in the fight, but I asked for a rematch. I said, 'I want to be a fighter,'" she recalls.
"I think it helped me more because my ex was already a fighter for 15 years and he gave me support. He said, 'no, you keep on training.' So when we got married I was able to just train.' I stopped university, my mom got mad but I could train all day, so I did train all day."
Justino had developed a dream for herself. Getting her ass kicked and kicking ass every day in the gym as a member of one of the world's toughest squads only strengthened her will.
These days, Justino doesn't train quite the same way she used to at old Chute Boxe Academy, where the likes of Anderson Silva, Wanderlei Silva, "Shogun" Rua, herself and many more legends were forged. "We train a little bit more professional, now," she says.
With that said, it is clear that she feels the brutal training she endured there, from her first day, onward, helped both reveal and create her fighting character. "I think if you trained at Chute Boxe, you can train anywhere. We sparred every day," she said.
For reference, many professional fighters these days are talking about taking their sparring down to once a week, or a few times in the course of an entire camp, because of how brain-jarring and injury-causing it can be.
Camps like American Kickboxing Academy in San Jose, where sparring takes places three times a week, are considered pretty rare and hardcore. Justino is saying that at Chute Boxe, sparring didn't just happen more than twice as often as that, but that it was the centerpiece of all their training.
"We sparred every day. It was crazy," she remembers with both astonishment and pride.
"You show a technique, sparring. One technique, sparring (laughs). You have a lot of great fighters come from Chute Boxe. Of course, now, the style changes a little bit, it's getting more professional, but I think you get better from this."
Whatever physical toll that type of hard training undoubtedly took on fighters like her, it also imbued them with a confidence that can't be shaken. "Nothing scares you after that," she insists.
"You're ready for anything. If you train at that gym, you'll be ready for any situation. If you have a bad time inside the gym, outside it will be better, easier."
Looking to break through, again, her way
Long before Ronda Rousey convinced the UFC to end its ban on women fighting for their promotion, Justino was one of the female fighters who first brought MMA to the sporting mainstream, by fighting on network and cable television for other organizations. Around that time, leading into the current decade, Justino's years of training seemed to start paying off.
She'd gotten her opportunities. In the past couple years, however, the main narrative surrounding her has been about her getting yet another opportunity --" to fight in the UFC.
Sure, Justino has continued to fight, becoming InvictaFC champ and defending that belt --€" though not as often as she'd like to compete, at times --€" but her bouts have not held much drama as to what their outcomes will be since she lost her professional debut 11 years ago.
Justino's fights take on the strange, voyeuristic and fateful tone of an execution. Do people want to watch them?
Yes, that's quite clear. But they watch them to see Justino drop the ax on yet another victim, wondering how she might be able to top herself in efficiency and spectacular violence.
The real question in recent years has been whether Justino would fight in the UFC. She fights at 145 pounds, and the UFC currently does not have that division in its ranks.
Still, Justino's appeal is such and the hope so great that she would drop more weight to fight at 135 and take on her rival Rousey, that the UFC has been paying her InvictaFC purses. When I met her in November she had been dieting down for months to maintain a weight low enough to fight at a catch weight of 140 pounds in InvictaFC to get a sense of whether a cut down to 135 would be possible or smart in the future.
At the time, as she had to do in the beginning of her career, Cris just trained and trained, hoping her opportunity would come. Instead, it was delayed, over and again, according to her at the time.
Her fights were pushed back and Justino realized she couldn't maintain the calorie deficit and training camp-level of work without a fight imminent. She was frustrated but seemed at peace, overall.
The training was hard, especially without a fight signed, but it wasn't like it took a lot of convincing to keep Cris in the practice room. "She's a gym rat," her coach Jason Parillo told me.
Indeed, when I met up with her boyfriend, martial arts instructor and former pro fighter Ray Elbe, to train last fall in Huntington Beach at Tito Ortiz's gym, Cris came with, and not to watch. She'd worked out earlier in the day but got in a run on the treadmill and then proceeded to get another intense strength training session in.
All that was before she decided to --€" as a cool-down of sorts, I guess --€" try a complicated and dangerously acrobatic-looking maneuver on a pull-up bar that involved a Swiss ball. Ever the competitor looking to challenger herself and not really worrying about danger, Cris asked Elbe to help support her up to the bar before he let go and she attempted an inverted and wild move with the bar and ball.
She came down, Ray grabbed her so she didn't fall and she laughed in his arms. Afterward, she spoke softly about what might be coming in the future.
If it weren't for seeing her beast out minutes earlier on the bar and treadmill, I could have momentarily almost imagined her as the shy, hesitant young woman initially turning down an offer to start fight training she would describe to me in April. Most of what fans have seen of Cris is her "Cyborg" alter-ego --€" violently making trained fighters crumble under her pressure in the cage.
Like most people, Justino is different outside of work. That polite, warm, engaging person is Cris, not "Cyborg."
As we spoke then, the UFC seemed like a far-away prospect. Later that month, Ronda Rousey would lose.
In December, Justino officially stayed at featherweight and defended her belt once more. It seemed as though she might never fight in the UFC.
Then, the promotion announced this event in Curitiba. Justino needed to be on that card. She campaigned and lobbied and the UFC smartly gave in, on the condition that she fight at a catch-weight of 140 pounds.
Some people close to Justino are concerned that the UFC is trying to corner her into going all the way down to bantamweight, eventually. The fighter maintains that she is sticking with her featherweight division, however, and that the UFC would be wise to add 145-poud women to the roster.
Whether the UFC is trying to manipulate her into moving down in weight, speaking with her as she nears her promotional debut, it is clear that Justino has her own plans. "If you want women's MMA to grow, you cannot do just one or two divisions. Look at how many divisions the guys have. If you want to make women's MMA grown, you need to make other divisions," she maintains.
So, she views this catch-weight bout as a super-fight, a special sacrifice she eagerly makes to fight for her fans on the biggest stage, and at home. After that, the world champion says she'll go back to defending her title.
"I've fought my whole career in my division. And, you don't have just me at 145 pounds. You have a lot of big girls from boxing, at 155 who want to go to MMA," she reasoned.
"I cannot leave my division to be nobody. I think I still have to promote my division, because if my division gets strong, maybe people will give more importance to them. I don't want to just think about me, but think about other girls, too.
"Ok, I can go do a super fight at 140 pounds for the UFC but I don't think it is fair that I leave my division because I started my division. One of the first nationally televised fights for MMA was in my division, between me and Gina Carano. That wasn't in another division. We started at 145, and we had a main event and got great ratings.
"I can make super fights for the fans but I'm not going to leave my division. It isn't fair to the other girls, either."
It really shouldn't surprise anyone that a woman who has done what she has isn't shy about sticking to her guns in the face of the world's top promoter. There have been ugly barbs directed at her from UFC hierarchy. She says she's fine working with Dana White, but that it is all-business.
The UFC may pay her but it does not own her, she makes clear. She will fight for it if and when it makes sense for her, and no other way.
After becoming an MMA pioneer, Justino has the guts to do things her way. Justino insists she simply isn't leaving her featherweight division --€" the one that was good enough for big national television ratings long before Rousey became a star --€" behind.
Justino gets big TV ratings and web traffic, and she gets that despite never having fought in the UFC. That's a truly unique situation.
"You don't have a lot of fighters who are known all-around the world. But when I travel around the world, everyone knows 'Cyborg,'" she said.
"It makes me happy, because a lot of things have happened in my career. The new fans don't know me, but my old fans know me, and keep following me, and know my career. A lot of fans just know Ronda because they just started following MMA, now.
"A lot of people ask me, 'Do you do UFC?' To me, I don't 'do UFC,' I do mixed martial arts. New people, new fans don't know so much about our sport. But I'm happy because I didn't have to do UFC for people to know me."
The fighter is grateful for the opportunity to finally compete under the UFC's banner. Honestly, she can't say that it isn't a dream come true. "Cyborg" says that she made this dream come true, however, not the UFC.
It was her work, her appeal, based on about a decade of dominance and thrilling fights, that made the UFC want to get in the "Cyborg" business, after all.
"I'm in the UFC now because the UFC knows how much people like my fights. I'm very appreciative of the opportunity but I don't need to be there for people to know me," she concludes.
"In the beginning of my career I had a dream to be in the UFC but a lot of things happened. So I said, 'man, I can be everywhere, I just have to do a great job and the opportunity will come.'
"Because, the fighters, we make the event. Invicta gave me an opportunity and they said, 'you will grow with Invicta.'
"Fighting in the UFC, it's a dream, coming true, that's nice, but it's just consequence of the good job I've done, before."
The woman has a formula --€do what she loves, train constantly, and fight hard. So far, it's working well for her.