Crawford doesn't flinch in Hawks' OT win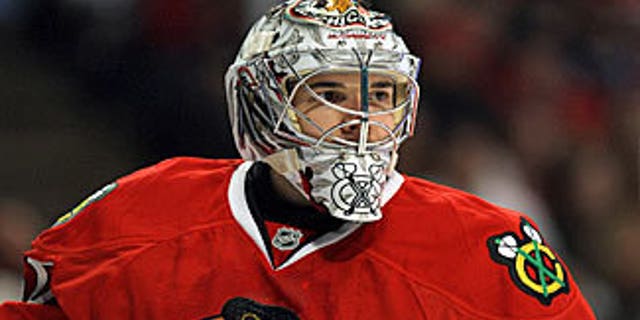 CHICAGO -- Dave Bolland was standing in front of his locker stall well after Sunday's Game 6, a good 30 feet from Corey Crawford. There was a small gathering of media blocking Bolland's view of the small gathering of media engulfing Crawford, yet as he was answering a question about the Blackhawks' goaltender Bolland kept trying to glance over toward him, maybe catch his eye, anything.
Crawford never looked back. He never flinched. He never does.
"Crow is really calm. You never see him get too high, you never see him get antsy," Bolland said of Crawford, who made 32 saves, including 12 in overtime, to help lift the Hawks into a Game 7 with a 4-3 win Sunday. "If you look around the room and you see him, he's sitting in his stall and just hanging out. I don't think anything is said. He's a quiet guy and he's always focused on one thing. He did a great job tonight."
Crawford has been a rock for the Blackhawks since winning the No. 1 job from Marty Turco early in the season, and he was flat-out awesome in overtime Sunday, showing composure and confidence befitting an All-Star who had been there and done that before, except Crawford had none of that going for him.
"I don't know, I can't explain it," Crawford said of why he was so composed in OT. "You're not really thinking about it. I'm kind of zoned in. We made a lot of great plays in overtime and it just set us up for the win there."
The Canucks tried tough angle shots hoping for a rebound, but Crawford confidently snapped several of them out of the air with his glove.
"I didn't want to pop one out for a rebound," he said. "I just wanted to make sure it stayed in my glove."
After Nick Leddy came to his aide and blocked Mikael Samuelsson's shot during Vancouver's 4-on-2 in overtime, Crawford came over to the young defenseman and tapped him on the head, telling him good job.
It was proof of how much he was in the game, how focused he was and how much he was enjoying himself.
"He really did (enjoy himself)," Blackhawks coach Joel Quenneville said. "I thought he had patience. He was quick, alert. He's played that way down the stretch and he gives us confidence. Tonight, he was a big factor in the outcome."
Crawford said all he was doing was "playing and going with the flow." He couldn't recall any particular sequence that stood out, but that's likely because it all kind of melded together in a whirlwind of action and emotions.
His performance did not surprise his teammates, who have come to expect him to be great in the clutch.
Crawford has allowed only five goals on 94 shots since the Hawks fell into the 3-0 hole. He gave up nine goals in the first three games.
"Oh, he's -- can't say enough about him," Blackhawks captain Jonathan Toews said. "He's been awesome. He's been making huge stops. I think the mental game, keeping the momentum and staying mentally solid over three games, a lot of it comes from how your goaltender is playing. He's been one of our best players through those three wins."
Follow Dan Rosen on Twitter: @drosennhl