Coyotes trade goalie Mike Smith to Flames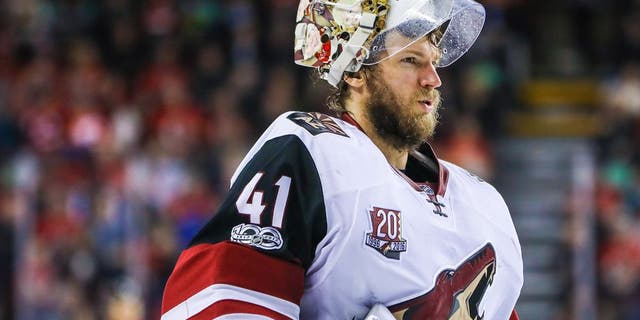 NEWYou can now listen to Fox News articles!
GLENDALE, Ariz. (AP) -- The Arizona Coyotes traded longtime starting goaltender Mike Smith to the Calgary Flames on Saturday for a conditional 2018 third-round pick, defensive prospect Brandon Hickey and the rights to unrestricted free agent goalie Chad Johnson.
As Calgary gets the starter it has been looking for, Arizona is now in the market for a new No. 1 in net after completing this deal prior to the NHL's trade freeze for the Vegas expansion draft. Smith had been with the Coyotes for the past six seasons and helped them reach the 2012 Western Conference final.
They missed the playoffs each of the past five seasons, which Smith called "a battle."
"I can't really complain about my time in Arizona other than we kind of failed as far as the winning part of it," Smith said in a phone interview. "That was my goal when I got there was to be a big part of a winning organization for a lot of years."
Thanking Smith for his contributions in Arizona, Coyotes general manager John Chayka called the him "the consummate professional." Last season he was 19-26-9 with a 2.92 goals-against average and .914 save percentage.
"Mike Smith is a 35-year-old goaltender," Chayka said on a conference call. "When some of our players are reaching their prime years, then he's probably on the wrong side of his career."
In 11 seasons with the Coyotes, Dallas Stars and Tampa Bay Lightning, Smith has a 2.70 GAA and .913 save percentage. He has two years remaining on his contract at a salary-cap hit of $5.67 million.
The Coyotes can protect Johnson in the expansion draft, though there is no certainty about whether they'll re-sign the 31-year-old or let him test the market July 3. Chayka said he'll consider a variety of options to get a goaltender.
"With expansion, there's a lot of unprotected goalies out there," Chayka said. "Vegas doesn't need 10. They only need a couple, and there's opportunities for trades from that perspective."
Hickey, 21, was a third-round pick of the Flames in 2014 and has played the past three seasons at Boston University.