Coyotes remain upbeat, confident in their chances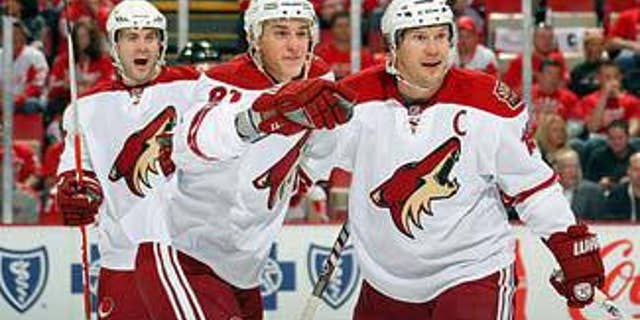 DETROIT -- Less than 24 hours after dropping Game 1 of their Western Conference quarterfinal, the Phoenix Coyotes' locker room looked like it did any other day.
There weren't any slumped shoulders or heads hung low following a well-attended optional practice held at Joe Louis Arena. There weren't any somber-sounding voices or wincing about letting a game get away in which they held the lead and couldn't convert any of their six power plays.
If anything, there was probably a tad more resilience in the Coyotes' words as they prepare for Game 2 on Saturday afternoon (1 p.m., NBC, CBC). During its streak of 20 straight playoff appearances, Detroit holds an impressive 19-4 record in series when it's won the first two games, but not even that info put a damper on the upbeat Coyotes.
"It doesn't matter which team goes up 2-0, they're going to have a better chance of winning the series," Fiddler said. "We have to win a game in this building. We came here and realistically, you look at a split as maybe a good thing. We're going to go after that second game. That's no secret. We have to be much better and more physical, but I expect us to be much better the next game."
They'll probably have to be, especially on special teams.
The Phoenix penalty kill gave up a crushing power-play goal late in the second period of Game 1 that gave Detroit a 3-1 lead head into the third -- and then there was the Coyotes' power play, which definitely needs some tweaks after frittering away so many opportunities.
During Phoenix's practice session, the Coyotes worked on their special teams play, to nobody's surprise. But not all of the blame can be placed around their necks. The Red Wings also played great on the penalty kill -- especially during a 5-on-3 while trailing 1-0 in the first.
Detroit blocked 18 shots in all to eight for Phoenix -- and that's a stat, along with being outhit 33-28, that's gnawing at the Coyotes.
"At this time of year, that's what it takes," veteran defenseman Ed Jovanovski said of blocking shots. "You've got to sacrifice your body, whatever it takes, to block shots. They had more of that than we did yesterday. You've got to pay the price this time of year."
Phoenix coach Dave Tippett couldn't agree more.
Posed with a question about blocking shots coming with the risk of getting injured, Tippett wasted no time assessing how important the sacrificial skill is to postseason success.
"It's dangerous, but that's how you win," he said. "Simple as that."
Being outhit in Game 1 was also troubling.
Phoenix doesn't have nearly as many offensive stars as the Red Wings and relies on controlling the tempo of games by being physical. Will the Coyotes be harder on the Red Wings physically in Game 2?
"We'd better be," said captain Shane Doan, who led the team with eight hits in Game 1. "We have to be more physical and get more involved in the game."
In other words, Phoenix will need the same kind of effort it had in the first 20 minutes of Game 1, only sustained over an entire game.
"I think if we start the same way we're going to be OK," Doan said. "A good thing is we don't think we played very well as a group. It's different if you feel you played a great game and they just beat you. But we don't feel like we played as well as we should have -- and as well as we can."